With 158 research centers, 15,000 researchers, three science and technology parks, and 11 start-up incubators, Lisbon is becoming an increasingly popular destination for international business students. What's more, those that have stayed in the Portuguese capital after graduation have created one of Europe's most exciting and innovative business hubs. So here's a look at life as a business student in Lisbon and one school that's shaping the future of business.
Europe's newest innovation hub
Lisbon is full of opportunities for business students and graduates. As one of Europe's fastest-growing innovation hubs, it now hosts the annual Web Summit conference, a three-day event where the world's leading tech companies and entrepreneurs share ideas for the future. Last year's speakers included billionaire investor Mark Cuban, Zoom founder Eric Yuan, and PayPal president Dan Shulman.
Jungle AI CEO Tim Kock moved his tech startup to Lisbon in 2016, and it wasn't for the beachside lifestyle. Instead, he came looking for the local talent.  "In Lisbon, graduate-level hires are high caliber," says Kock. " And in many ways, the city's university curriculums in machine learning are more advanced than in many other European countries."
Then there's Amir Bozorgzadeh. He brought his virtual reality brain-training startup Virtulea to Lisbon in 2016. Since then, Amir and his team of graduates have never looked back. "There's a great pay-it-forwards team culture here," says Amir. "I love my team, and I love the talent in this city. That's why I'm here. It's the ideal situation. I am definitely my best self in Lisbon."
It's a great place to live
When you're not in lectures, make sure you soak up everything Lisbon has to offer. You can start by exploring the city's beautiful architecture, which combines a diverse range of styles, including romanesque, gothic, Manueline, baroque, traditional Portuguese, and postmodern. You can then visit Lisbon's two world heritage sites: the Monastery of the Hieronymites and Tower of Belém. Or if it's been a tough week, spend a  lazy day at one of the nearby beaches, where the average summer sea temperature is a very welcoming 68°F.
The Alcântara and Santos districts are perfect for letting off some steam following a busy semester. You can bar hop, grab some delicious (and reasonably priced) seafood, and then hit the clubs near Bairro Alto. This shabby-chic district is famous for its bohemian vibe and welcoming party atmosphere.
And you'll have no problem finding a pick-me-up when Monday morning arrives.  Coffee is a national institution in Portugal, and the locals like it rich and strong. You can grab an expresso for around $1 in one of Lisbon's many independent coffee shops.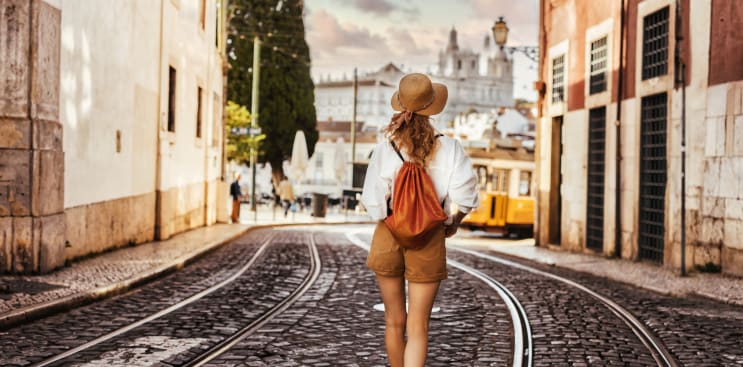 A model city for the green revolution
Last year the European Union crowned Lisbon the 2020 Green Capital Award winner.  Karmenu Vella, the former commissioner for Environmental and Affairs, presented the award. "It's inspiring to see such strong leadership from Lisbon," said Vella. "With best practice environmental management and good urban planning, Lisbon showed how to turn environmental challenges into opportunities, and make cities healthy and enjoyable places to stay, live, and work in."
Vella also handed over a cheque for €350,000 to support Lisbon's impressive list of green initiatives. They include one of the world's largest networks of electric vehicle charging points and the Covenant for Climate Change and Energy, which reduced the city's C02 emissions by 50% in just over a decade.
For Lisbon to continue its great work, the city will need lots of help from ambitious business graduates committed to responsible capitalism. And one of Lisbon's top business schools is making sure the next generation of CEOs and entrepreneurs understand that there's a new way of doing business.
Iscte Business School was the first Portuguese business school to join the Globally Responsible Leadership Initiative (GRLI), a nonprofit community of companies and educational institutions that promotes responsible leadership and practices. Maria João Cortinhal, the dean of Iscte Business School, explains how working alongside the GRLI is part of a much broader strategy to ensure its students "become innovative and socially responsible business leaders, with a truly global perspective."
Iscte Business School: an entrepreneurial university in the heart of Lisbon
Iscte Business School is an internationally accredited business school recognized for excellence in teaching, research, international outlook, and fostering the entrepreneurial spirit. It currently has over 3500 students enrolled in seven undergraduate programs, 17 master programs, and four PhDs.
With AMBA and AACSB accreditations, Iscte Business School has a first-class international reputation and offers its students a unique learning experience that bridges the gap between classroom learning and real-world business experience.
Iscte Business School's master students can study economics, management, finance, marketing, and other business disciplines before putting their newfound knowledge into practice through exciting work experience placements. Thanks to Iscte's impressive network of alumni, students can gain valuable work experience at top multinational business firms, including recruitment company Hays and multinational professional services network KPMG.
Students receive additional career support from Iscte Business School's Career Services team. They work proactively with students to help them secure a professional role following graduation. This team offers career counseling, mentoring programmes, company visits, and a personal development program that develops leadership, creativity, and other soft skills.  Iscte  Business School's Career Services is an excellent resource and a big part of why 98 percent of Iscte's master's graduates find a job and 92 percent find a job directly related to their degree. At the same time, students have access to one of the first university business incubators in the country: Audax-Iscte. This incubator is currently supporting 25 companies and highly contributes to the growth and development of Lisbon's entrepreneurial ecosystem.
With more than 96 different nationalities on campus, Iscte Business School has one of the highest ratios of international students among Portuguese universities. The diverse student body gives the school a vibrant, international feek. Students interested in further international study can participate in Double Degrees, Erasmus or study trips abroad, as well as summer or winter schools in other countries.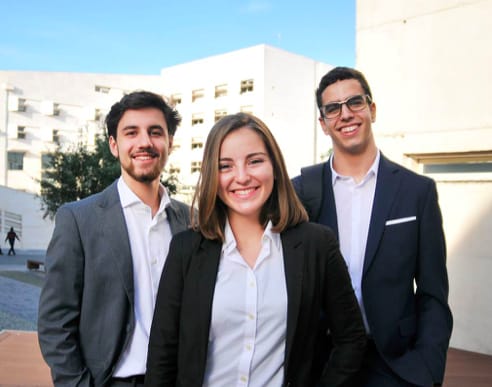 Iscte Business School has a modern campus located in the heart of Lisbon. It's easy to reach via public transport and has everything you need for a world-class learning experience, such as modern classrooms and auditoriums, study rooms, cafeterias, a library, computer labs, and sports facilities. And when class is over, you can join sports clubs, student associations, or hobby clubs. The school also runs regular team building exercises and events to create a welcoming and inclusive atmosphere.
Iscte is currently taking every precaution to keep present and future students safe during the COVID-19 pandemic.  It was the first Portuguese university to receive the COVID-19 "Disinfection Monitored – Cleaning Checked" Seal, which assesses health and safety conditions. Students worried about how the pandemic may affect their enrollment or visa application can contact the school for guidance.
The second round of applications for Iscte Business School's master programs ends on February 15. Visit Iscte Business School's website for more information. There, you can find details on entry requirements, the application process, and enrollment. So don't miss out on your opportunity to join Iscte Business School's mission to shape the present and inspire the future!
Article written in association with Iscte Business School.