In the world of food packaging it has been compared to the search for the Holy Grail – how can technology be used to enable tens of thousands of tonnes of problem plastics to be used again and again to protect the products we eat and drink?
While scientists, alongside organisations such as Wrap and the Ellen MacArthur Foundation, have been exploring the elusive goal for over a decade, there has been no major breakthrough.
Recent months, however, have seen the industry speed up its efforts – with minds no doubt focused by the UK government's plastic tax, due to come into force next year. So what progress is being made exactly? And how far can it transform the war on plastic?
According to the 2019 UK Household Plastics Collection Survey, the UK uses almost 400,000 tonnes of soft plastics every year, of which just under 21,000 tonnes is collected and recycled into non-food grade material. That is, in part at least, because only 16% of local authorities are actively collecting soft plastic.
Faced with that bleak backdrop and growing pressure from the public and eco-concerned shareholders, supermarkets have begun rolling out a whole range of soft plastic recycling schemes.
But a big chunk of the packaging, including many of the pots, tubs and trays – as well as huge amounts of film – used every day, simply has no commercial route to be used again in food products.
"The war on plastic has focused on bottles, bags and straws but there has been little mention of polypropylene use in pots, tubs and trays"
Polypropylene (PP) accounts for a staggering 20% of the world's plastics. In the UK alone we use 700,000 tonnes per year of the stuff. Yet with PP also prevalent in a vast array of non-food household and personal care products, the potential for contamination has become a nightmare for the environment. With no food-grade recycled polypropylene (FGrPP) because of strict safety laws it means all PP food packaging is currently made from virgin plastics.
However, competing scientists and food manufacturers now believe they are on the cusp of being able to offer a mass rollout of solutions to tackle the problem.
A circular economy
Professor Edward Kosior, founder and CEO of UK-based Nextek, is one of those hoping years of work on technology to tackle the issue is about to pay off.
Last week, Unilever committed to halve the use of virgin plastic in its packaging and remove more than 100,000 tonnes of plastic entirely by 2025, becoming the latest manufacturer to back Nextek's global project NEXTLOOPP. It is aiming to create food-grade recycled polypropylene (rPP) from post-consumer packaging waste collected at the kerbside.
"To date, most post-consumer PP packaging is either going to waste-to-energy, landfill or being downcycled into low performance applications, wasting precious resources," says Kosior.
"For consumer safety, the European Food Standards Agency (EFSA) requires that recycled food-grade materials can only be made from >95% food packaging and that the recycled plastic must meet the same high standards required for virgin food-grade plastics."
Kosior points out that problems with PP have largely escaped the attention of the public, amid Blue Planet fever. "The war on plastic has focused mainly on PET drink bottles and iconic single-use plastics like bags and straws that appear in litter, and there has been little mention of the wide use of the pots, tubs and trays that are placed in recycling boxes yet not widely recovered for specific recycling.
"PP is rarely used to make bottles and has slipped off the recycling grid. The complications of recycling it for reuse in food-grade packaging has limited the economics of recycling.
"Brands have grown used to a sales model that focuses on discarding rather than recycling and the creation of a circular economy requires deep changes to be supported by brands and retailers."
NEXTLOOPP is using a form of novel UV-fluorescent markers that enables the identification and separation of food-grade packaging. It claims to comply with FSA, EFSA and USFDA food-contact rules, therefore opening the door for food-grade packaging to be recovered back to food-grade quality recycled plastics.
"NEXTLOOPP will be creating food-grade rPP that has been mechanically recycled," says Kosior. "This process has a significantly lower CO2 emissions factor than chemically recycled materials as well as mechanically recycled rPET."
Nextek hopes its technology can capitalise on government plans to make suppliers responsible for the costs of recycling as well as the looming plastic tax.
"One of the key reasons our project has had such a resoundingly positive response is that the need to include recycled content in plastic packaging has become imperative across the UK supply chain," says Kosior. "The UK Plastics Pact set four overarching objectives to create a circular economy for plastics, one of which was to increase average recycled content to 30%. If we can't produce food-grade rPP it risks being delisted and yet we have no other truly sustainable alternatives to take its place."
However, the technology is yet to provide evidence that it can recycle PP food packaging back into a food-grade plastic at an industrial scale, with trials not due to be completed until the end of 2022.
Nextek, however, is not alone in seeking scientific solutions and faces powerful competition in the race to provide a scalable industry solution to the PP quandary.
HolyGrail
In 2016, the Ellen MacArthur Foundation founded the so called HolyGrail project to start exploring technologies that could help provide solutions for hard-to-recycle plastics.
That has now moved into more advanced stages with last year more than 80 major European brands, including P&G, PepsiCo and Mondi launching HolyGrail 2.0, aimed at developing a system of so-called digital watermarking on packaging.
These watermarks, the size of a postage stamp, can be used not just for PP, with a whole range of plastics and indeed paper packaging considered suitable applications.
Its supporters believe the project has the capacity to revolutionise recycling and crucially, the potential to communicate a mass of new data – as well as targeted promotions – using smartphone apps.
The project is planning to roll out a full-scale trial of the technology in the next few weeks and Graeme Smith, head of product sustainability at Mondi, believes it could live up to its ambitious moniker.
"If it does, not only will this increase the scope and scale for the commercialisation of quality packaging waste, it also gives the brands involved a chance to engage with consumers as never before," he says.
Meanwhile, supermarkets have also begun trials to tackle the particularly thorny issue of PP film, after joining forces with companies using chemical solutions to turn the material back into packaging suitable for food and other products.
In March, Tesco said it hoped to collect and recycle more than 1,000 tonnes of plastic a year, with the rollout of a scheme – collecting the 'soft plastic' ignored by many local council collections – expanded to 171 stores.
The supermarket, which launched a trial in the south west of England in April 2019 to start collecting petfood pouches, shopping bags and crisp packets, says it planned to extend the scheme nationwide.
The plastic will be sent for recycling where it will be washed, sorted and processed before being turned into new packaging used to pack items such as food, household and beauty products.
A similar trial is underway at more than 60 Sainsbury's stores and several other major supermarkets are going down the same road.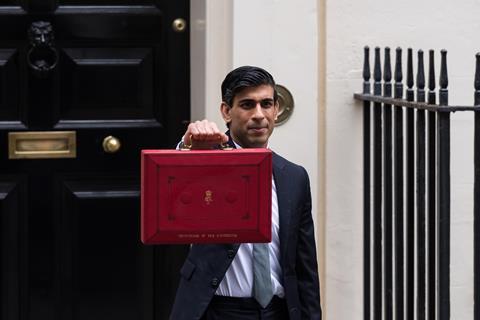 The plastic tax
Who will be hit: UK producers of plastic packaging, importers of plastic packaging, business customers of producers and importers of plastic packaging, and consumers who buy goods in plastic packaging in the UK.
There is an exemption for producers and importers of small amounts of plastic packaging to mitigate against disproportionate administrative burdens in comparison to the tax liability.
How it works: The new tax applies to plastic packaging produced in or imported into the UK that does not contain at least 30% recycled plastic. It will not apply to any plastic packaging that contains at least 30% recycled plastic, or any packaging that is not predominantly plastic by weight.
Aim: The tax will seek to provide a "clear economic incentive" for businesses to use recycled material in the manufacture of plastic packaging.
When it's due to come in: April 2022.
Source: UK government
A report last year, published by Valpak on behalf of Wrap, highlighted that of the 266,000 tonnes of plastic packaging waste in 2019 that came from PP, a whopping 80,000 tonnes (30%) came from film. Despite its environmental impact, film is still seen as by far the most effective material to package food, keeping products fresh to prevent food waste. However, it is widely ignored by local authority collection schemes.
Helen Bird, Wrap's strategic engagement manager on plastic, says that while the technological barriers in the battle to recycle film into food-grade products, which require hugely expensive chemical solutions, are even more testing than the methods being rolled out on other types of PP, the work supermarkets and suppliers are doing is finally providing hope that what was once seen as futuristic alchemy might soon be commercially viable.
After many years of talks behind the scenes, and with EPR and the plastic tax – not to mention COP26 – on the horizon, the timing could not be more significant.
"When we first carried out work on this a decade ago, we knew it was possible to do it," says Bird. "We realised the technology was there, it's working out how you commercialise it – that's the key issue."
As always, it is when commercial markets and environmental causes work together in the same direction that the biggest breakthroughs are made.
While the government plans to start hitting companies with its plastic tax, its biggest impact could be to help speed up the scientific breakthroughs to make that possible with this most problematic, yet widely used, form of packaging.