Welcome to Thomas Insights — every day, we publish the latest news and analysis to keep our readers up to date on what's happening in industry. Sign up here to get the day's top stories delivered straight to your inbox.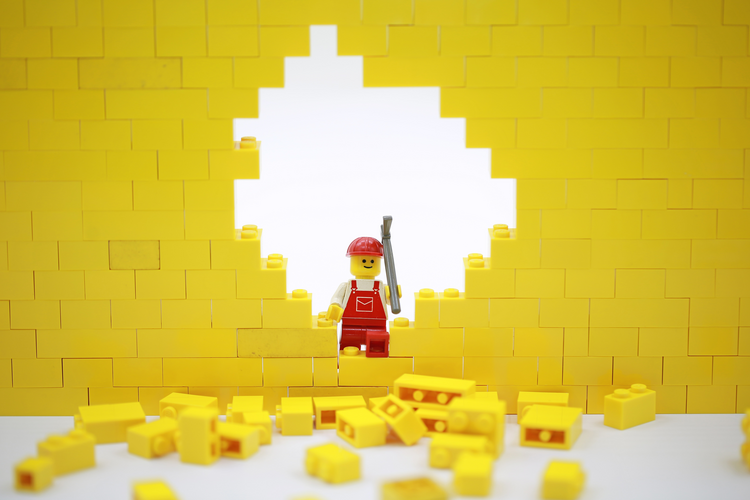 Lego was founded back in 1930 by Danish carpenter Ole Kirk Kristiansen and has since become one of the most well-known and well-loved toy companies in the world. Lego, an abbreviation of the Danish phrase "leg godt," means "play well" — succinctly embodying the brand's overarching ethos.
In 1947, the brand began making plastic toys alongside its original wooden products and in 1949, the brand's famed interlocking bricks were first produced — then known as "Automatic Binding Bricks." By 1951, plastic toys made up half of the business's output. Some trade experts speculated that the plastic models would never replace wooden toys because the public had typically favored wood. But the plastic building blocks ultimately proved to be a massive success.
In 1954, the founder's son Godtfred became junior managing director. During a conversation with an overseas buyer, he came up with the idea for a more complete toy system, which would allow for increased interchangeability and enhanced playing options, but the toy's existing locking ability did not offer the right versatility. In 1958, ABS (acrylonitrile butadiene styrene) polymer was identified, and Lego obtained a patent for the new system. The Duplo series, consisting of larger interlocking blocks designed for younger children, was introduced in 1969, and in 1978, the Lego Minifigures were introduced.
When Jørgen Vig Knudstorp joined the Lego Group in 2004, the company was facing serious challenges. Read on to see how Knudstorp turned the company around.
Who Is Jørgen Vig Knudstorp?
Born in 1968, Jørgen Vig Knudstorp grew up in Fredericia, Denmark, and obtained his undergraduate degree from Aarhus University. From there he began a career as a researcher for the university and also earned a master's degree and a PhD in economics.
He held a career as a business consultant from 1998 to 2000 while continuing his work in academia. Before joining Lego, Knudstorp was working as a consultant for McKinsey & Co. Despite joining family-owned Lego in 2001 as an outsider, he was named CEO by 2004.
At the time, the company was floundering, losing $1 million a day, racking up debt, and overextending itself into certain product categories such as branded children's clothing. Knudstorp implemented unique strategies to bring the company back to stability. Under his leadership, Lego turned loss into profit — jumping five-fold.
After rebuilding the brand, Knudstorp stepped down as CEO in 2016, becoming a chairman of the Lego Group. He was also nominated to the Starbucks board of directors in 2017.
4 Lessons on Implementing Change from Jørgen Vig Knudstorp
1. To Be a Real Leader, First Earn Employees' Trust
In an interview with Harvard Business Review, Knudstorp spoke about his beginnings at Lego and the challenges he initially faced in earning his employees' trust. To turn the company around he needed to focus on top-down management and stringent fiscal control. There was much work to be done, and Knudstorp knew that success would require teamwide support and alignment.
"In Danish, we have an expression that literally translates as 'managing at eye level,'" Knudstorp said. "But it means being able to talk to people on the factory floor, to engineers, to marketers — being at home with everyone."
With this approach, he was able to earn the trust and respect of his workers, making it easier to apply the much-needed improvements and keep morale high during the most challenging of times.
2. Focus on What Matters Most
When Knudstorp stepped up as Lego's CEO, he set out to narrow down the brand's priorities. He started with one basic question: why does Lego exist? "Ultimately," he said, "we determined the answer: to offer our core products, whose unique design helps children learn systematic, creative problem solving — a crucial twenty-first-century skill."
So the brand decided on an important goal — not to be the largest, but to be the best. This was an important distinction to make, but it required a shift in strategy. The company would move away from the rigid top-down management approach and instead focusing on a more relaxed structure that would give individual managers more autonomy.
By taking the time to pin down Lego's key focus, Knudstorp was able to better align the team on the company's goals moving forward and empower managers to make their own decisions.
3. Don't Ignore the Customer; Involve Them
While Knudstorp focused heavily on aligning Lego employees, he also recognized the importance of encouraging customer participation and building loyalty. In an interview with Boston Consulting Group, Knudstorp spoke specifically about the importance of loyalty, which has allowed Lego to serve multiple generations of families across the world.
He also acknowledged that the company had taken customer loyalty for granted in the past, becoming too focused on initiatives, such as Lego-branded clothing, that didn't serve Lego's underlying goals.
To gauge how customers were responding to the brand, Knudstorp zeroed in on measuring success, using a Net Promoter score to analyze the value the business was creating for its customers. He also began consultations with adult Lego fans to get a firsthand perspective on the trajectory of the business, as well as involving enthusiastic customers in product development.
The brand now works with more than 100,000 volunteer product designers to help Lego deliver what people want, and customers can be more involved than ever, with the option to design their own products. As Knudstorp said, "[Customers] are an avenue to the truth."
4. Think of Your Business As a Multifaceted Ecosystem, Rather Than a Single Entity
While it may be tempting to exert as much control as possible over every aspect or offshoot of your brand, this isn't always the best path to long-term success. In an interview with IMD, Knudstorp discussed his decision not to force Lego's various affiliates and partners to act as though they were all part of a single corporation.
Instead, he chose to allow these offshoots, such as theme parks and educational entities, to have more autonomy, choosing the specific business models and management styles that worked for them. This, he said, allows "natural synergies" to emerge, in much the same way that a biological ecosystem functions. Different organisms behave in different ways to ultimately benefit the larger ecosystem, keeping it healthy and strong.
How to Lead Like Jørgen Vig Knudstorp
Knudstorp brought a beloved brand back to success. Whether you're in charge of a major corporation or a small local business, there are valuable takeaways to be gleaned from his methods and techniques. Keep these four key points in mind to help you navigate change, make tough business decisions, and set your company up for continued success.
Listen to and learn from your employees. Without their trust and input, you won't be able to lead effectively. Real leadership stems from a well-managed, closely aligned team. Talk to your staff about what they think needs improving, what's working, and how they see the company evolving.
When business isn't going as well as you'd hoped, it's easy to get bogged down in the details. Start big, zeroing in on the ultimate goal or the main problem you're trying to solve, then work your way down. This will help to keep things manageable and focused.
Employee alignment is important, but customer involvement is just as crucial. Today's consumers have more options and information at their disposal than ever before, so it's important to understand their needs, wants, and concerns. Track successes, gather data, and put the customer front and center.
Many businesses have several moving parts, or affiliated offshoots, events, and partnerships. Cohesion is good, but being overly controlling of independent entities can backfire, creating a culture of fear and quashing creativity. Think more holistically, and remember that what works in one corporate office may not translate to another location.
Read More Lessons from Leaders:
Image Credit: Lewis Tse Pui Lung / Shutterstock.com
More from Career & Workforce