Welcome to Thomas Insights — every day, we publish the latest news and analysis to keep our readers up to date on what's happening in industry. Sign up here to get the day's top stories delivered straight to your inbox.
This article is sponsored by Precision Plastics, a production company specializing in plastics design and fabrication.
Precision Plastics, Inc., is a custom plastic design and fabrication company with nearly 40 years of experience. Their 50,000-square-foot facility houses state-of-the-art equipment that allows them to offer a wide range of capabilities and deliver quality products from start to finish. Whether a project requires large mass production or custom one-time pieces, Precision Plastics can work with you to bring your ideas to life.
"From the beginning, we've performed a broad range of services, but what has changed is the type of machinery we can work with," says Christopher Mata. "We've expanded our capabilities by investing in technology like CNC machines and turning centers, which are less hands-on. This allows us to continue production 24 hours a day."
To meet a wide range of needs, Precision Plastics offers services for machining, manufacturing, custom projects, fabrication, signage & printing, and material sales. Their project managers and engineers work with customers from the design stage through packaging and delivery to ensure each project meets the correct requirements and specifications. Precision Plastics provides a wide range of stock products and designs as well as various customization capabilities to meet the needs of every industry and application.
Get to Know Precision Plastics
Precision Plastics' mission is to improve communities nationwide by designing and fabricating unique and innovative products.
The company aims to shape the plastics fabrication and manufacturing industry by delivering superior products and services.
Precision Plastics is dedicated to manufacturing in ways that protect the environment and their employees while still providing cost-effective solutions to their clients. 
Through various manufacturing and fabrication techniques, Precision Plastics offers products such as conduit spacers, face shields, sneeze guards, signage, custom displays, and much more.

Thomas Insights (TI): What sets Precision Plastics apart from its competitors?
Christopher Mata (CM): Precision Plastics has been around since 1984 as a family business specializing in plastic production. What separates us from everyone else is we consider ourselves a small family, big business. We work for the customer, so if they have specific lead time requirements or if they need something by tomorrow, we'll do it. There are 24 hours in a day, so we'll do what we can to get the job done. I think that says a lot about who we are and what we do as a company.
Because of this, we see a lot of customer loyalty. There are customers that have been coming around for 30 years and who have seen us grow from our first small facility to what we are today. To get everything under one roof, we've expanded from one 5,000-square-foot building and one 10,000-square-foot building to one 25,000-square-foot facility. Then we started doing countertops, so we moved into an even bigger 50,000-square-foot building. 
This has allowed us to expand our capabilities by evolving our technology, such as moving from hand milling to more advanced CNC machining, turning, and other state-of-the-art fabrication methods.
TI: Do you have a preference on what industries or types of customers you like to work with? 
CM: We take walk-ins from all kinds of customers. We've had customers that need everything from signage and plastics for knitting machines to trophies and agricultural components. We've even taken on metal. Our machines can cut metal materials to deliver whatever our customers need. 
We also deal with a lot of new production. We have an engineering team we can really count on in these instances.
TI: What's the biggest question you get from customers, and how do you respond?
CM: A lot of the time, we get a combination of "we're trying to do this," and "what plastic will fit best for our application?" Since there are so many different types of plastics, we want to help them find the best option. For example, if the customer has an outdoor application, they wouldn't want to use polycarbonate because it can turn yellow. In those situations, you'd want to switch to acrylic. 
We also get a lot of questions about lead time. Nowadays, if you can do something in a week, you're doing something good, so that's a big question that we get. 
TI: Is there a certain type of plastic offering that is in more demand than others?
CM: Not really. It all depends on the application. In agriculture applications, you'll see a lot of UHMW, high-density plastic. For point-of-purchase displays, you'll see acrylics. and for machinery guards, you'll see polycarbonate. That's what I like about the plastic industry: there are multiple answers for different applications. For instance, we've recently seen a shortage of ABS, but we've been able to come up with alternative plastic options for applications that need it. 
TI: Do you have any success stories you can tell us about?
CM: Most recently, we have done a lot of stuff related to COVID. We've produced probably over 14.5 million face shields. When it all first started, we had nurses and purchasing agents walking to our door from the local hospitals because they couldn't get their hands on what they needed. It was an "all hands on deck" situation where we had to figure out how to get all these face shields made. We worked seven days a week and had over 500 employees walking in and out to make it happen quickly.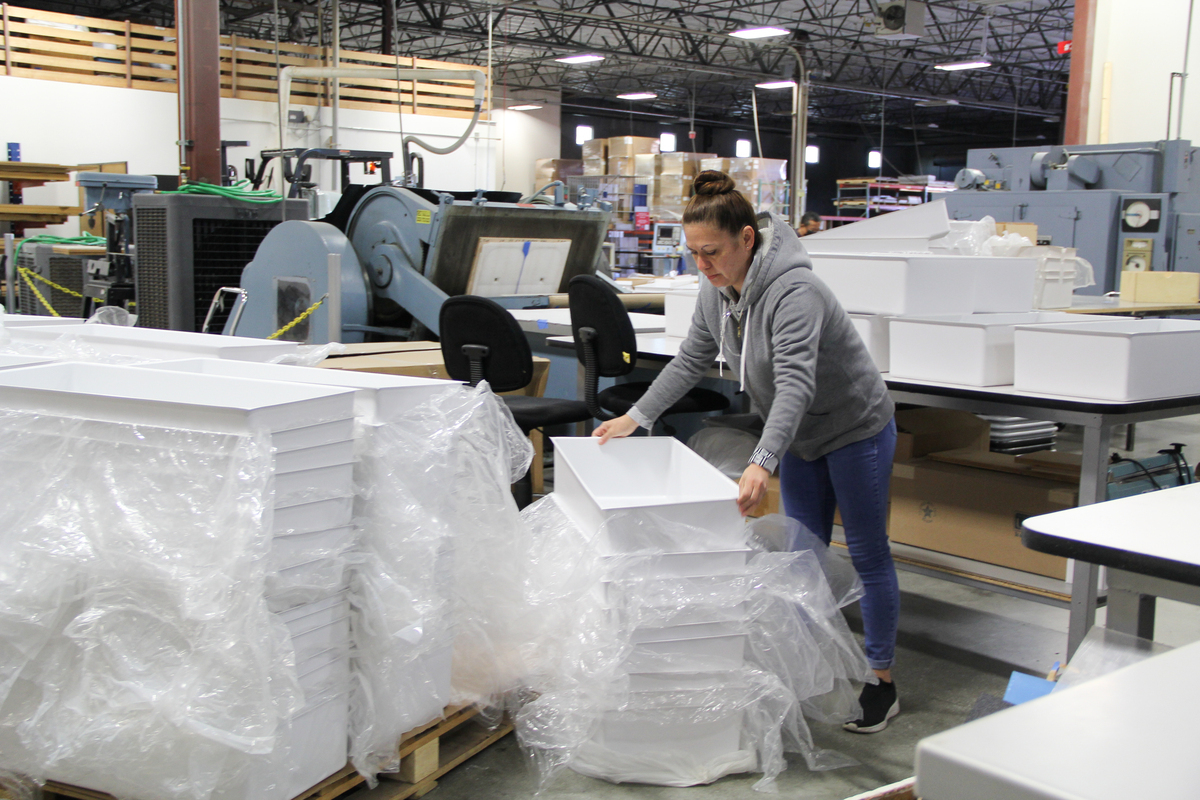 TI: What's something that isn't widely known about Precision Plastics that you'd like to highlight to potential customers?
CM: There are a lot of people out there that like programming, and the plastics industry is a little behind. But there are a lot of schools that are starting to get into programming, drawing, and being able to run different machines a lot easier than it would have been five to ten years ago. We work with a couple of school districts to bring in the younger generation of kids so that they can learn something about the plastics industry. The students get to come in on a shared time schedule and learn how to use a CNC machine. They get to learn real-life things and actually get paid for it. 
TI: What kind of trends are you seeing in your industry, and what are you doing to stay ahead of the curve? 
CM: With the current resin shortage, we are just trying to make sure that there is material and that we are staying open-minded. COVID has put a lot of projects on the backburner because companies couldn't come through for their customers. We're making sure that we're open and able to take on as much as we can.
Industries such as agriculture and automotive have all gotten hit pretty hard with the shortage of resins like ABS, UHMW, and high-density. Agriculture is big in our area, but we do ship a lot for the automotive industry. We do a lot of conduit spacers with high-density, and we sell ABS to injection molders.
TI: What do the next five years look like for your business? How are you looking to grow or expand your business?
CM: Up until last year, we've never had an online presence, so we're in the middle of pushing that. We want to have an entire store online so people can buy what they need, and we're looking into ways to potentially tap into the target market through social media. We are also expanding into the cannabis industry, and we have a digital printer that allows us to produce a lot of signage. I can go on forever talking about how we plan to expand, but the majority of it is just pushing to be better than we are. 
We want to keep improving, which includes getting up to date on technology. For example, we've seen a rising demand for 3D printing and laser cutting. We just got a new laser machine that can cut metal and plastic and take a picture from your phone and turn it into a 3D piece of wood. 
One thing that has come from COVID is that we won't just stay open for eight hours a day. We'll stay open 24/7 to get a customer's job done. If we need another machine to finish a project, we'll buy another machine and get it done. If we need to stay open on weekends and holidays, we will. We're not afraid to tackle big projects and hit deadlines, and that's really what sets us apart from a lot of the competition. 

Image Credit: Precision Plastics
More from Custom Manufacturing