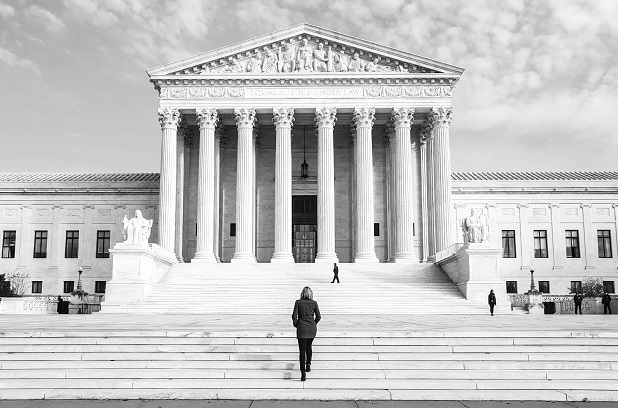 The leak of the U.S. Supreme Court's draft decision potentially overturning its almost 50-year-old decision in Roe v. Wade has employers considering potential impacts on their workforce. The right to choose is an issue steeped in religion, politics, and personal privacy, making it difficult for employers to navigate. In this article, we will look at some items employers may wish to consider if the high court's decision in Dobbs v. Jackson Women's Health Organization overturns Roe v. Wade and Planned Parenthood v. Casey.  We discuss considerations in the areas of employment law, medical plan coverage, and employee privacy.
Employment considerations
Workplace discussions.  Public discussion of such a religiously and politically charged topic in the workplace is likely to be problematic. Employees may feel that others are discriminating against them because of their view on the issue, particularly if the employee has not been invited to or has been excluded from meetings or conversations where different views are being expressed. For employees who may have past experiences related to the issue, open discussions in the workplace may not be welcomed and may cause emotional distress or trigger other physical ailments. Feelings of exclusion or being in the minority opinion can lead to complaints of discrimination and hostile work environment.
Employers can anticipate these discussions and provide managers with guidance on recognizing when workplace discussions may cross the line into creating legal liability.  Employers can also develop processes for addressing employee concerns and complaints regarding discussions on this sensitive topic.
Leave rules.  Employees who live and work in a state where abortion services are no longer legal, but who would like to consult with a physician about such services, may face a host of issues related to availability and applicability of leave options. Employees are likely to request time off for an abortion or related procedure using their paid sick leave, leave under the Family and Medical Leave Act ("FMLA"), or some other company-sponsored leave option. State paid leave laws typically include provisions specifying the acceptable reasons an employee may use sick leave, though usually employers are free to allow additional reasons. If a state passes a law prohibiting abortion and all related procedures, the law may also prohibit an employee from using their paid sick leave to obtain such a procedure (although we are not aware of such a law in effect currently). Further, if the law contains a provision that makes aiding and abetting a criminal offense, employers who allow employees to use their paid sick leave for such a procedure may face criminal penalties.
If the employee confidentially discloses to the employer the purpose for the leave, employers should consider whether and how to maintain this information in confidence. While the employer may take disciplinary action against the employee who improperly disclosed the information, the employer could have significant liability with respect to the employee about whom the information was disclosed based on claims of reputational damage or harassment.  Employers should consider renewed training for all personnel who handle leave documentation to ensure appropriate levels of confidentiality.
Solicitations.  Employers should be aware that exceptions to solicitation policies can have far-reaching consequences.  Employers may be considering how to show their support for their employees' ability to make health care decisions. Such support could include allowing employees to participate as a group in rallies or protests, or to meet at the workplace before attending such events. Employers may also allow employees to post notices in the workplace about such gatherings or about support groups.
Many employers have policies that prohibit solicitations in the workplace. These policies are important if the employer wants to limit disruption in the workplace from various forms of solicitation, including possible unionization efforts. Allowing an exception for employees to post a notice about a rally or other support activities related to abortion rights, or for the employer to post information about services available to employees (other than those that may be offered by the company's health care provider), may open the door to other solicitations. The employer may find that it cannot easily shut that door once it has been opened.
Medical plan considerations
In addition to employment-related considerations, employers have been grappling with how to continue to cover abortion related services under the employer's group health plan. This is an ever-evolving area of law, and as always employers should discuss with ERISA counsel how they should handle their health plans before implementing any changes.
ERISA Preemption. ERISA preemption is of special importance to employers with employees nationwide, as state law is at the center of this discussion. Fully insured medical plans are subject to state insurance laws, and due to ERISA's preemption of state law, state laws generally do not apply to self-insured medical plans. Employers should consider how ERISA preemption will impact coverage related to abortion.
As of the date of this article, some states are considering legislation that would provide a private enforcement right of action against individuals (or possibly entities) who facilitate abortion services. It is currently unclear how courts will interpret ERISA preemption as it relates to state laws (other than state insurance laws) that may place limits on the ability of a self-funded plan to fund abortions. Questions have also been raised as to how this will impact coverage of telehealth services for medication abortions for out of state employees. Due to state medical licensure requirements, this will have to be a state-by-state analysis.
Travel cost as medical expenses. As employers are currently working through ways to extend coverage to employees living and working in jurisdictions that are likely to limit access to abortion, one increasingly common response has been for employers to consider funding the cost of travel for abortion through their employer-sponsored health plans. Funding the cost of travel through a group health plan raises a number of important employer considerations. In the remainder of this section, we discuss some high-level considerations employers should contemplate when amending coverage under a health plan in response to restrictions placed on abortion.
First, employers should decide how and if they would like to provide travel expenses. If an employer decides to set up a separate reimbursement plan outside of an existing medical plan, then all Affordable Care Act (ACA) requirements would need to be met. Employers will likely want to consider offering travel coverage for abortion services under an existing group health plan or health savings account to function as an additional feature of the plan to limit any issues under the ACA.
Second, employers should consider the tax implications. Travel reimbursements will be taxable compensation to employees except to the extent the expense is a medical expense under a medical plan. Generally, under the Internal Revenue Code (Code), non-taxable medical care expenses include transportation primarily for and essential to medical care. Health plans have historically covered travel for various specialized surgical procedures, such as transplants. Ancillary costs associated with traveling for abortion, such as lodging, may also be considered a medical care expense. However, employers must meet the conditions set forth under Code Section 213(d)(2) for lodging expenses, and the reimbursement for such expenses are capped at $50 per individual.
The final issue employers will want to consider is whether criminal liability risks are associated with providing medical plan coverage for employee travel for abortion. It is important to note that ERISA preemption does not apply to criminal law. This is especially relevant given that some states are considering enacting laws that would make abortions performed in other states a crime for their citizens.
Privacy considerations
A Supreme Court decision that overturns Roe v. Wade could pose a challenge to the very premise behind that case – individual privacy. As the topic continues to polarize various groups, the use of personal information that may be accessible by an employer could then lead to significant security and privacy implications for the individual. Against this backdrop, employers could find themselves facing unexpected privacy battles and increased pressure to tighten privacy and cybersecurity measures.
General Privacy Considerations.  The United States does not have a federal privacy regime. Instead, privacy rights depend on a patchwork of state laws. Therefore, it is not unusual that employers in certain states, such as California and New York, may have stricter cybersecurity and privacy measures in place than employers in states that are yet to implement significant privacy regulations. With the Supreme Court's decision, however, the focus is likely to shift from mandated state requirements to the safety of the employee.
Employers may find themselves in possession of information about an employee's abortion plans, even if the employer does not explicitly seek that information. For example, based on web search history, one could deduce whether an individual plans to visit an abortion facility or procure abortion-inducing drugs. This is particularly amplified by "Bring-Your-Own-Device" and remote working policies that give employers access to previously unavailable information. To the extent that an employer collects any data that could implicate an employee's propensity to access, or information showing that they have accessed, abortion facilities, employers should consider instituting measures to ensure that robust systems are in place to protect the employee's identity and to tackle any data breaches.
HIPAA.  Employers should keep in mind that group health plans are subject to the Health Insurance Portability and Accountability Act (HIPAA) requirements regarding use and disclosure of protected health information (PHI). HIPAA requires that covered entities must institute policies and procedures to limit the uses and disclosures of PHI, and the covered entity has to obtain the individual's consent prior to disclosing PHI for any uses and disclosures that are not otherwise allowed under HIPAA. Further, employers may not make employment decisions based on PHI that is obtained from a group health plan. For example, if a company employee who is authorized to view PHI for plan administrative purposes learns about an employee's abortion, they may not use that information to inform employment decisions.
Many employers are already preparing statements that they intend to present to their employees, and they are planning actions they intend to take if the Supreme Court overturns Roe v. Wade. Employers may want to consider the issues discussed above as they prepare for the Supreme Court's decision.
Michael Hepburn, Bonnie Burke, Laura Taylor, Deepa Menon, and Catherine Beaver are with Eversheds Sutherland.