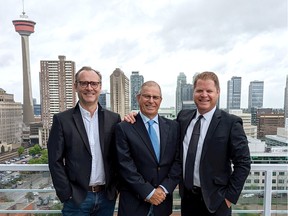 Article content
Supply chain management has become increasingly important as flow of goods and services between businesses, and storage and management of inventory is a major headache for companies.
Article content
Calgary-based Bolongo is having remarkable success as a supply chain platform offering simplified, sustainable solutions to companies while also reducing environmental effects.
Bolongo was founded in 2014 by president and CEO Stewart Worth and his father and chair Garry, after Stewart realized the potential in matching the needs of companies looking for equipment and others trying to get rid of surplus.
In his senior level work with gas, power and engineering companies — including Direct Energy, MRC Global and CH2M Hill — he became aware of the extreme amount of waste in pipelines and other commodities.
He discussed with his dad the idea of forming a company to handle the business of buying and selling oilfield materials and reducing the huge amount of waste — Garry, interested in a possible growth market for environmental, social and corporate governance, asked for a business plan.
Article content
At the time, few companies had dedicated asset recovery departments responsible for cataloguing and managing inventories. Stewart says there were many instances where new projects meant buying materials that they might already have in storage.
Bolongo took on that accountability, designed to be a centralized online hub acting as a third party between wants and don't wants, saving huge amounts of money for clients.
Clients are members of Bolongo with access to a totally transparent online marketplace enabling them to find and buy with just a matter of clicks of a mouse.
Today, Bolongo has more than 800 members comprising most of the major and midstream oil and gas companies. Around 80 per cent are located in Western Canada and 15 per cent in the U.S. But it has evolved beyond the oil and gas industry to include other businesses, such as a maritime marine company that has contracted Bolongo to dispose of a $4-million surplus in its inventory.
Article content
Much of its inventory is made up of investment recovery of stranded assets — $125 million is displayed in its current online offerings.
A key benefit of Bolongo's method of buying and selling assets is the effect on the environment from companies buying good new and unused equipment. Stewart says after writedowns, much goes to scrap even though that can be quite costly, as would be any attempt to recycle.
By finding a proper home for equipment, since 2017 the Bolongo platform has facilitated the use of more than 120,000 tons of existing steel-based inventory.
Producing this material "new" would have created an estimated 216,000 tonnes of CO2, used more than 2,500 gigajoules of energy and 7.6 billion litres of water. That is the equivalent of the yearly emissions of nearly 49,200 cars, energy to power nearly 26,400 homes, and enough water to serve the daily use of more than 27 million Canadian homes.
Article content
Little wonder the Worths are excited about their venture and the recognition by Alberta Innovates technology voucher to further develop its platform, as well as being named a finalist in the recent Global Energy Show's Disruptive Digital Innovator of the Year award.
The driving force has been to provide an easy solution by combining the user-friendly functionality of an online marketplace with a service backed by a wealth of industry experience.
Notes:
"It's been too long" was the heading in the Herald announcing the welcome return of show jumping at Spruce Meadows. Exciting news of a number of other events also gives us a sense of getting back to normal. Shauna MacDonald, principal of Brookline Public Relations, is happy to report on a number of events she and her staff of 14 are busy working on. There's the grand opening of the Dorian hotel; anniversary of the Westbury hotel; next month's Wings Over Springbank; Monster Jam at the Stampede grounds in August, and Disney on Ice in the Saddledome in November. And MacDonald says her portfolio of clients continues to grow along with her staff, recently added to with the hiring of Laila Adam as its Indigenous-relations consultant.
David Parker appears regularly in the Herald. Read online at calgaryherald.com/business. He can be reached at 403-830-4622 or by email at info@davidparker.ca.