Opinion: Metro Vancouver politicians have for decades been pushing highrises in the name of reducing carbon emissions. But not all their arguments stand up.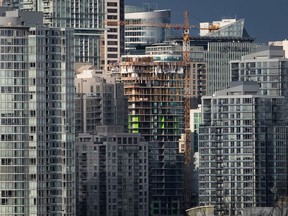 Article content
The thinking goes that residential highrise towers are more environmentally friendly than low-rise buildings because they squeeze more people onto a smaller footprint of land.
Article content
Highrises are also believed to emit fewer greenhouse gas emissions because residents share energy in more compact spaces. Many also maintain skyscrapers reduce suburban sprawl.
Such theories are ensconced at Vancouver city hall, where for more than 15 years councillors of the right and left, plus planners, have been building highrises to advance "EcoDensity," make Vancouver the world's "Greenest City" and live up to the city's 2019 Climate Emergency plan to combat global warming.
While the green goals appear laudable, are there unintended environmental consequences from soaring residential towers?
The city of Vancouver has more than 1,100 residential highrises. Burnaby, North Vancouver, Surrey and elsewhere have added hundreds more. Skyscraper construction throughout Metro Vancouver now aims faster and higher — 40- to 60-storey buildings increasingly pepper the skyline.
Article content
On the plus side, it is widely accepted that housing density, including highrises, can reduce the pollution from suburban sprawl and the need for long-range commuting.
But Metro Vancouver politicians' embrace of highrises has also come despite strong research showing highrises (usually defined as 13 storeys and more) emit more greenhouse gases per resident per day than low-rise (five storeys and less) and medium-rise residential buildings.
And the latest studies are showing highrises are especially polluting when their construction process is taken into account, particularly because they require unusually massive concrete foundations.
There is also a third environmental worry. Despite some people finding high-in-the-sky living enjoyable, especially the views, highrise existence is not always beneficial to community life. This is not to mention what glass towers do to birds.
Article content
Few topics are more relevant to the future of Metro Vancouver. The highrise debate is becoming intense, including with protests and extra-long council meetings.
In the name of increasing density and preserving energy Vancouver city staff have proposed hundreds of new highrises through the Broadway Plan, which seeks to house at least 50,000 more residents in a 500-block area of Mount Pleasant, Fairview and Kitsilano.
Former Vancouver chief planner Brent Toderian, now a private consultant, is among the big boosters of the Broadway Plan, claiming its "bold" density reflects "just how far and fast cities need to go to mitigate the climate crisis."
Article content
But Gareth Sirotnik, a writer and Buddhist chaplain at the University of B.C. who has made presentations opposing the Broadway Plan, says, "Yes, Vancouver needs plenty of new housing supply. But there are better ways to achieve it than with skyscrapers."
He notes Vancouver's own 2016 Zero-Emissions Building Plan favours low- to medium-rise buildings. "What hypocrisy is going on here?"
The Broadway Plan, which could be decided on June 22, is considered a precedent for hundreds more highrises Vancouver has already approved or is planning — for mostly luxury developments at Oakridge Park, northeast False Creek, Marpole, Alberni Street and on the Indigenous-owned Jericho Lands, Senakhw and Heather Street properties. Surrey City Centre is also turning into a highrise zone and Burnaby is reaching for the skies in Metrotown, Edmonds and Brentwood.
Article content
To put the debate a simple way: Which is better for the environment? A skyscraper-filled metropolis like Hong Kong, New York, Shanghai and Dubai, or a low-slung city like Paris, Copenhagen, Vienna and Munich?
The most obvious way to assess the environmental impact of a dwelling is to examine how much greenhouse gas emissions it produces daily. This is referred to as a building's "operational" carbon cost.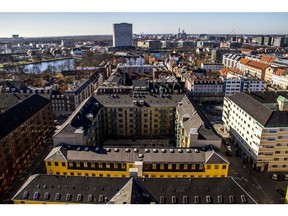 A study of this was done eight years ago for the city of Vancouver, Metro Vancouver, Surrey, Victoria and the Building Owners Association of B.C. A consultancy called Lighthouse reviewed 337 different buildings across the province.
"The energy performance of low-rise several-unit residential buildings was 22 per cent better than highrise several-unit residential buildings," said Lighthouse's 71-page report.
Article content
"The greater the number of floors the higher the relative emission intensity."
Why do taller apartment buildings tend to produce more greenhouse gas emissions (GHGs)?
"The (superior) performance of low-rise residential buildings is likely due to their predominantly wood construction compared to their taller counterparts that feature concrete structures," said Lighthouse, noting that buildings produce 41 per cent of the province's emissions.
In addition, Lighthouse reported, "Highrise buildings are more likely to have a greater percentage of glazing and curtain walls filled with windows, which decrease their energy efficiency and increase their emissions."
In other words, the Lighthouse report made clear highrises have in significant ways been worse for climate change than low- and medium-rises. Seattle's Office of Sustainability obtained even more negative results, leading to arguments highrises are "energy hogs."
Article content
But the towers keep popping up.
Vancouver's Paul Morris, former research leader for sustainability at FP Innovation, says highrise residential buildings require more energy because they're less likely to be made of wood and their glass surfaces "are more exposed to the sun, to wind, to rain and ice. So they're more difficult to heat and cool."
With his argument emphasized in a warning by B.C. Hydro during last years's heat dome, Morris is part of a group questioning the Broadway Plan, after the first new contentious highrise for Broadway, at 39 storeys, was approved in April for near Granville Street.
Like most, Morris readily agrees that density reduces pollution by cutting commuting from far-flung suburbs. But he maintains six-storey buildings can create similar density by being gradually added to Vancouver neighbourhoods.
Article content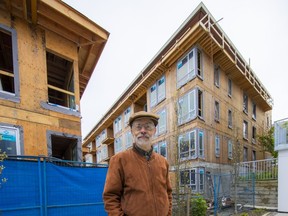 He's not alone. UBC urban planners Patrick Condon and Scot Hein say Metro Vancouver could use more sustainable low to medium-rise residential developments like at the Olympic Village and at 12th and Vine, where residents long ago fought against politicians pushing towers.
B.C. Hydro, the electricity utility, put out a report three years ago that offered an environmental warning about the dangers of highrises.
While the B.C. Hydro report said more British Columbians are buying "luxury" condos that are marketed as "energy efficient," the trouble is they often contain common-area pools, hot tubs, lights, heating and cooling systems that operate 24 hours a day, which contributes to the people who live in them "having a much larger energy footprint that those living in older-style buildings — despite what they may think."
Article content
Vancouver Mayor Kennedy Stewart and councillors Adriane Carr, Michael Wiebe and Christine Boyle could not be reached for comment.
However, Sean Pander, the city of Vancouver's manager of Green Buildings, acknowledged in an email that "existing" highrises consume more energy than the city's low- and mid-rise multi-residential buildings (MURBS).
Still, Pander maintains environmental standards are improving. "As of June of 2021, emissions from new highrise developments have been reduced by 80 per cent compared to 2007." Council passed more recommendations on May 17, he said, to further limit carbon pollution from tall buildings.
While SFU's Alex Boston, a specialist in renewable cities, says older Vancouver highrises have been "low performers" in carbon emissions because of their overuse of glass, he applauds council for pushing to further reduce their impact.
Article content
Burnaby Mayor Mike Hurley also said highrises come with the advantage of "more opportunity for energy sharing." He described how warm and cold air can be transferred between units within a highrise and also between buildings.
While such debate continues to rage over "operational" emissions from highrises, two more environmental issues are arguably more important: They focus on emissions during construction and the effects on humans and the ecology.
We'll get into these two difficulties next Saturday.
---
More news, fewer ads: Our in-depth journalism is possible thanks to the support of our subscribers. For just $3.50 per week, you can get unlimited, ad-lite access to The Vancouver Sun, The Province, National Post and 13 other Canadian news sites. Support us by subscribing today: The Vancouver Sun | The Province.