PUBLISHED
August 21, 2022


KARACHI:

When floods hit Pakistan in 2010 and swept up one-fifth of the country, rendering millions homeless, UN officials declared it the 'worst natural disaster to date' resulting from climate change.
At the time records showed that the Indus River hit the highest water level ever recorded in the 110 years since regular record keeping began. Parts of Khyber Pakhtunkhwa received 180% of its normal monsoon rain.
However, dialogue on climate change and global warming at the time was still relatively moderate. It could be argued that since then, the conversation surrounding this has changed dramatically over the last decade. Where it was once scoffed at by conservative leaders in the West and dismissed with the label of liberal politics agenda, it is hard to ignore its very real and eminent impact across the globe.
Some of the effects of climate change include warmer temperatures, which increase the intensity and frequency of heat waves, rising sea level, which threatens coastal communities and ecosystems and changes in patterns and amounts of rainfall. However, despite a deluge of research and measurable impacts as well as alarming forecasts, many countries have yet to implement measures that could make a real difference to slow down the effects of climate change.
As I write this story, millions have already been impacted by the heavy rainfall, flashfloods and landslides across Pakistan that took place since this year's monsoons began in June. More than 580 people have died from torrential rains and thousands have lost their homes. Balochistan, Khyber Pakhtunkhwa and Sindh have been the most affected by the rainfalls. This week alone, Karachi has non-stop rains for two consecutive rains. Over 40 people have died in Karachi from the rains since July. Experts say that Pakistan has endured 60% more than its 'normal total monsoon rainfall' in the last three weeks.
Nearly 200 people have died in Balochistan. According to the National Disaster Management Authority, the province has received more than 305% rain than its yearly average.
Earlier this week, the United States announced a $100, 000 immediate relief aid for Pakistan with an additional $1 million to 'build resilience' against natural disasters. How the funds will be utilised to mitigate future natural disasters seems unclear at this point.
Multiple fires, exacerbated by exceptionally dry and hot weather in the area, enveloped the Margalla Hills National Park in Islamabad in June this year.
In April of this year, South Asian countries such as Pakistan and India experienced an unpredictable heatwave that touched 50 degree Celsius in some areas. According to records, Pakistan experienced the hottest March since 1961. The heatwave which lasted till the beginning of monsoons led to nearly 800 people in Lahore being treated in hospitals from heatstroke and gastroenteritis, among other health problems.
In Sindh, the heatwave impacted upper and central areas where temperatures hit six to eight degrees higher than normal.
Pakistan has been a Climate and Clean Air Coalition partner since 2017 and according to the Global Climate Risk index, Pakistan's contribution to global emissions is less than 1%. However, despite this, it is among the countries most vulnerable to climate change.
IPCC's Sixth Assessment report reveals that human emissions that cause heat-trapping gases have already warmed the climate by 1.1 degree Celsius since pre-Industrial times.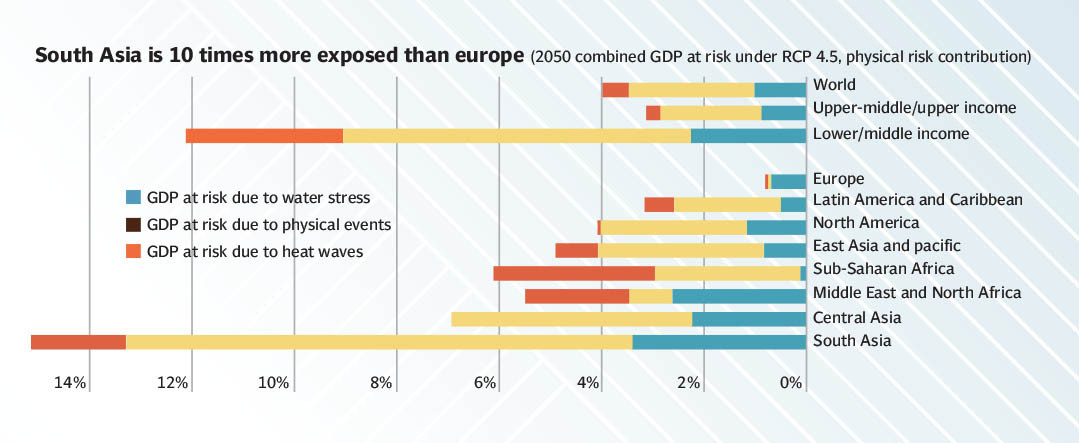 As Assistant Professor Climate Change Impact Institute of space Technology Dr Mujtaba Hassan explains, "Scientists believe that the increase in average global temperature is caused by the eminent emission of carbon dioxide and other greenhouse gases. In line with the global trends, the annual average surface temperature of southern Pakistan has increased up to 0.5 in the past 50 years."
"However, a different picture has been observed in the Northern areas of Pakistan, particularly in Central and western Karakoram. In contrast to the global trend, the spring and summer temperatures in the Central and western Karakorum have shown significant cooling trends," he added.
According to Dr Hassan, understanding the future glacier evolution and the effect on glacier-related hazards and water supplies of this complex geographical region, is extremely important. The Hindukush-Karakoram and Himalaya region is referred to as the third pole, hosts thousands of glacier outside the polar regions, and provides freshwater to millions of people. The glaciers in the western and central Karakoram have exhibited balance to a slightly positive mass budget in contrast to the glaciers in the other parts of the world. Understanding the changes in future water resources originating from the Karakoram region have a significant impact on the downstream livelihood. For this purpose, a group of researchers at the Institute of Space Technology is currently researching the anomalous behavior of glaciers in the Karakorum region.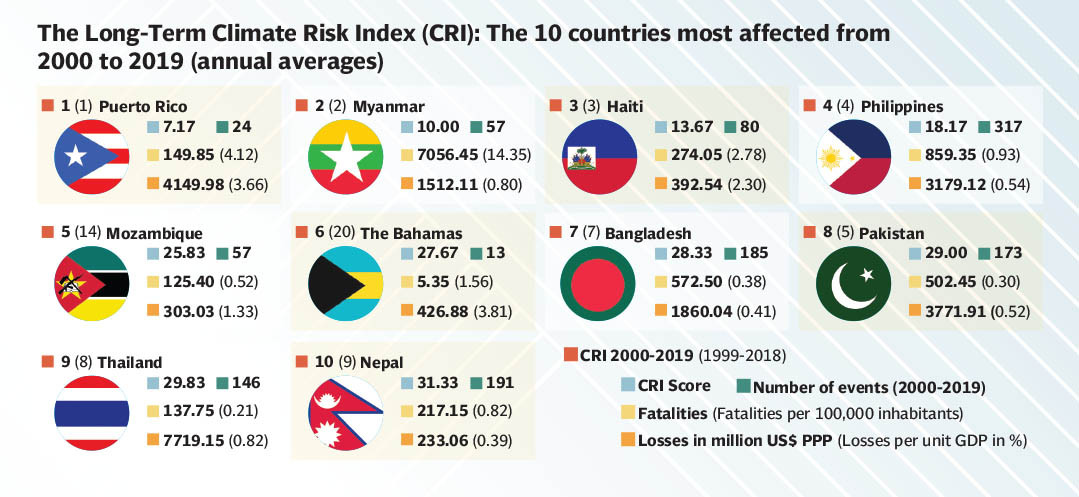 However, how can the alarming consequences of climate change be combatted? Hassan explained that in order to combat climatic changes in Pakistan, first, we need to understand the differences between climate variability and climate change.
"Weather refers to the atmospheric conditions experienced or expected in a particular location during periods of hours to days, whereas climate refers to an average of how much atmospheric conditions behave over years to decades. The climate tends to change quite slowly, however, we also experience short-term fluctuations on a seasonal or multi-seasonal time scale," he added.
"Alterations to the earth's atmosphere that occur over a much longer period that is from decades to millennia are characterised as climate change. This means that sometimes we experience the fluctuation in the average temperature on a seasonal time scale without changes in the long-term average (millennia)," said Hassan.
According to Head of Climatology and Environment Section Global Change Impact Studies Centre Shahbaz Mehmood, the impact of global warming has already occurred, which means that it will result in higher number of natural disasters. Therefore, while measures need to be implemented to slow down its impact, an action plan to deal with its very real and inevitable consequences is also needed urgently.
"You need to be prepared for that one degree of change that has already occurred," said Mehmood to The Express Tribune. "Rainfall is expected to increase in the future. So are other natural disasters. Forms of extreme weather will be more frequent. Previously, we would experience flooding every five years, now it will be experienced perhaps every second or third year. We need to be prepared for that because we don't have the option not to adapt."
"For instance, drainage systems and nullahs need to be managed properly because urban flooding will occur more frequently now," he said. "In the past, this type of flooding would happen infrequently so you could get away with overlooking these drainage systems, however that can no longer be done."
"Even if we stop everything right now, it will still take time to reverse everything so the next two to three decades you have to face the consequences of the climate that has already changed," he added.
At a Leaders in Islamabad Business Summit 2022, which took place earlier this week, Minister for Climate Change Sherry Rehman highlighted the natural disasters in Pakistan, which were the result of climate change and added, "Pakistan will now have to look at its own climate solutions since global leadership is behind the curve on climate targets."
Under the Ministry of Climate Change's initiative, currently a Green Plantation Programme is under way. The project seems one of the few under the ministry and its progress remains unclear so far. The ministry's only ecosystem protection initiative is the foreign-funded Pakistan Snow Leopard and Ecosystem Protection Programme.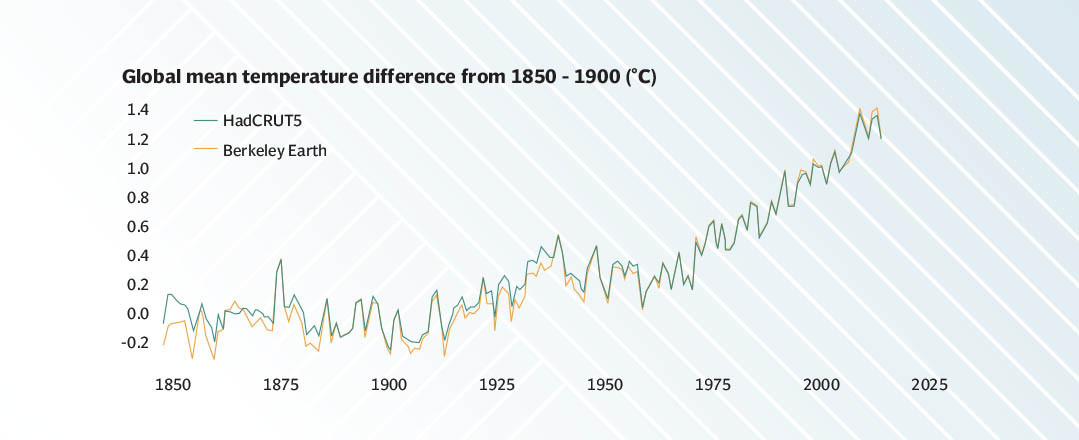 An attempt was made to interview Minister Rehman for this article, however, the minister was unavailable before its filing.
According to Dr Hassan, implementation of tree plantation initiatives are vitally important. "The initiative that the government has taken in this regard is valuable. From tree plantation, we can not only adopt but also mitigate the extreme events. As trees grow, they help to stop climate change by removing CO2 from the atmosphere, increasing oxygen in the atmosphere and storing the carbon in the tree and soil. Trees also cool the air through the transpiration process, enhance the water cycle, reduce the surface temperature and enhance the precipitation process," he said.
In 2019, a Standing Committee on Climate Change was also set up by the parliament. One of the main intentions for its creation was to represent Pakistan at the COP26, which took place in Glasgow last year. However, its function and effectiveness is a bit murky. The committee, comprises a few experts, while most its members are politicians with little know-how on climate change. According to Dr Mujtaba Hassan, who is also a member of the committee, only one meeting was held by the committee last year in September, where the then speaker of the assembly Asad Qaiser called on its members to advise him on COP26. "The committee was not consistent in tackling the issues," he said.
No new reports have been published by the committee since 2020. However, in contrast to Dr Hassan's experience, according to the committee's website, since COP26, some meetings and workshops have taken place under its umbrella. However, the results of these efforts towards effective policy on climate change are also unclear.
Pakistan's Methane Problem
Methane, which is considered to be 80 times more potent in causing global warming than carbon dioxide, is produced by the breakdown or decay of organic material and can be released in the environment through natural processes such as seepage of gas from underground deposits or digestion of food by cattle or by human activities such as oil and gas production, rice farming or waste management.
Dr Hassan explains, "Methane is a hydrocarbon that is the primary component of natural gas. Methane is also a greenhouse gas so its presence in the atmosphere affects the surface temperature and climate system. Methane is emitted from a variety of sources including oil and natural gas, waste water treatment and certain industrial processes."
"China, the United States, Russia, India Brazil Indonesia Nigeria and Mexico are estimated to be responsible for nearly half of all the methane production. Pakistan is not a big contributor to methane emissions just like other greenhouse gases," he added.
According to Knoema, agricultural methane emissions of Pakistan grew at an average rate of 3.10% with an increase from 75, 980 thousand metric tons of CO2 equivalent in 2000 to 135, 270 thousand metric tons of CO2 equivalent in 2019.
According to Climate Watch 2020 report, World Bank estimates it as even higher at 162, 760 thousand ton of CO2 equivalent in 2019.
However, according to Mahmood, cutting back on agriculture-related methane emissions may be challenging for Pakistan, especially keeping its current economy in mind. "We are a developing nation and our economy is dependent on this. We need international support to cut back on methane emissions," he said.
Nevertheless, in November 2021, Pakistan, along with 100 other countries, signed the Global Methane Pledge at COP26, which commits to limit the world's methane emissions by around 30 per cent.
Brave New World
The climate change consequences of climate change are already evident and experts claim they will be taking place at a more accelerated pace than previously anticipated. The only solution is to accept and slow down its impact. To do that, according to Dr Hassan, "In Pakistan, we need to work in two dimensions. One is to mitigate the extreme events and second is to adopt these changes. Adaptation means adjusting to the current and future effects of climate change and mitigation is making the impact of climate change less severe by preventing or reducing GHG emissions. Since Pakistan is not a big contributor to GHG emissions, so our focus should be on the adaptation side."
"Global carbon emissions need to reduced. Goals need to be made that head towards zero emissions. But global effort is required for this. Our share towards this is less than one per cent," adds Mahmood.
"You need to gradually start moving towards clean energy such as hydropower, solar or wind energy, while also factoring in economic security," said Mehmood. "The barrier for this will be technology as that is what's needed to execute this. For instance, we are warming up to the idea of electric cars but we don't have many here so far so it'll take time."
IPCC's Sixth Assessment report warns that global temperature is expected to exceed 1.5 degrees Celsius within the next few decades, which means that unless significant changes are implemented right away, the worst of climate change-related impact may still be ahead.