In the first setback for Mayor LaToya Cantrell's citywide cycling plan, a tense debate ended with the City Council voting unanimously Thursday to remove over two miles of protected bike lanes in Algiers.
Under the ordinance sponsored by District C Council member Freddie King, whose office fronts one contested lane, the city must restore MacArthur Boulevard and Newtown Street to their previous configurations. Protections for cyclists like plastic bollards are permanently banned.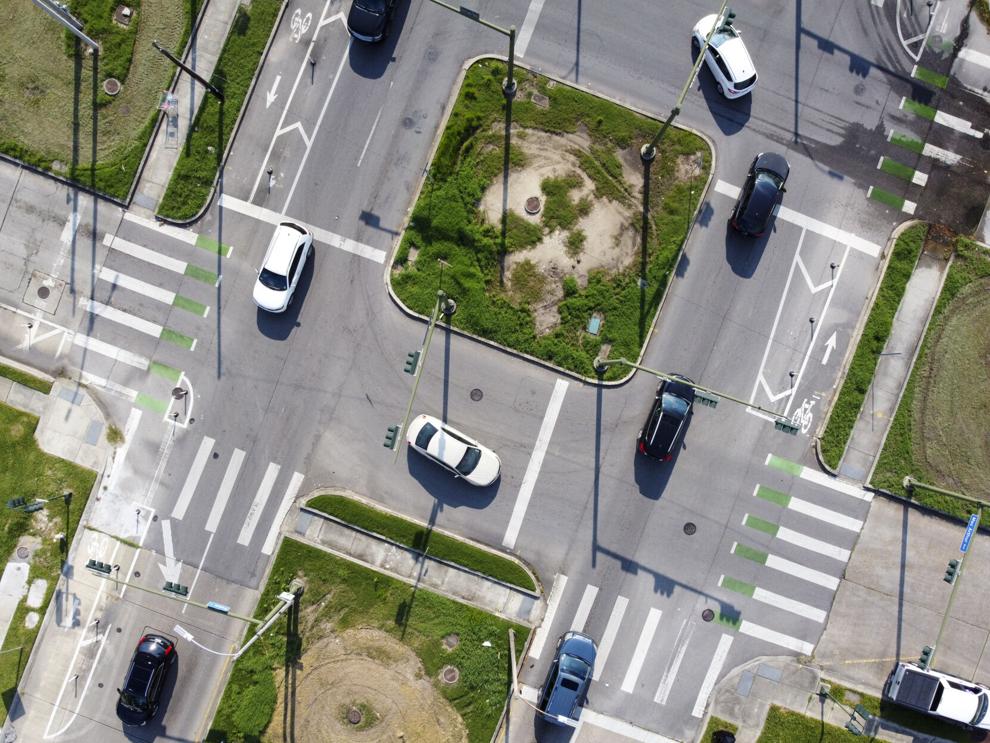 King said the move was a limited response to overwhelming opposition from locals, who have been irritated by parking hassles and plastic posts. But cycling advocates mobilized in droves against what they saw as a loss for the broader movement toward streets that are safer for all users.
In the end, several council members said their vote was more of a knock on Department of Public Works outreach than on the merit of protected lanes.
"This failure is not the bike advocates' or the residents'. It is a city failure that we are haphazardly trying to address," said JP Morrell, the council vice president.
Months in the making
The lanes at issue represented 2 of the roughly 30 miles of bikeways that have been completed thus far as part of an overall, 75-mile Cantrell administration vision.
Thursday's vote was more than a year in the making. Almost from the moment the city began reconfiguring two streets in parts of Algiers, residents complained that they had been caught unaware. Along with plastic "flexposts," the new street layout requires drivers using on-street parking to park between the bike lane and main travel lane.
King ran for office last year promising to take residents' concerns about the lanes to City Hall. Shortly after his inauguration, he passed a resolution calling on the Department of Public Works to rethink the lanes.
Although the city removed some of the bollards and placed them closer to the curb, giving residents more room to park their cars, those changes did little to allay neighborhood concerns. King said Thursday that opposition from residents continues to be overwhelming.
Both camps had ample representation in council chambers on Thursday. For bike advocates, the concerns raised by residents didn't outweigh the threat that cars pose to unprotected cyclists. They also said that studies elsewhere show that protected lanes provide a general "calming" effect that makes streets safer for everybody who uses them, including drivers.
One opponent of King's legislation, journalist Philip Kiefer, told the council that he was on Esplanade Avenue on the night of the Krewe of Endymion parade in 2019 when a drunk driver traveling at a high rate of speed killed two cyclists and injured seven more.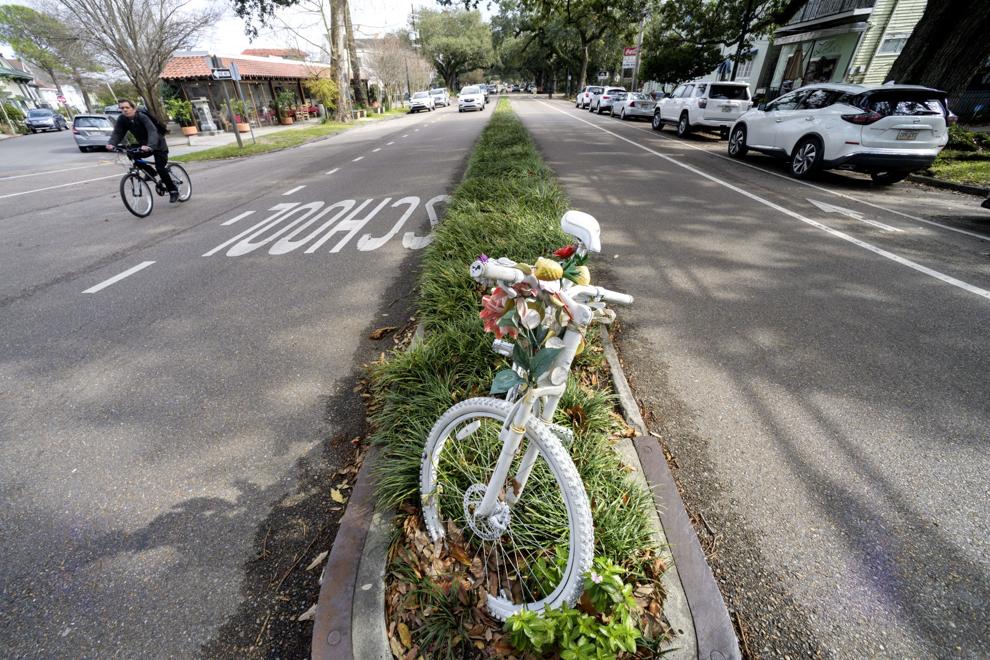 "If there had been a protected bike lane, like MacArthur, he could not have driven at that speed," Kiefer said. "My point is that drivers and, yes, bikers are going to be reckless and make bad decisions, and good infrastructure keeps people safer, no matter what."
'We have lost businesses'
Some Algiers residents said they've seen few cyclists using the lanes, and the new configuration poses a danger to the greater number of motorists parking on the streets.
"We have lost businesses because of this bike lane, and it has also affected the consumers coming in, with handicapped and children," said Fredidra Howard, who said she was speaking on behalf of Newton Street business owners.
The Cantrell administration says a preliminary review shows that the bike lanes have reduced traffic accident rates, but it hasn't released a full analysis.
King's ordinance reverts Newtown and MacArthur to a mix of unprotected bike lanes and painted icons known as "sharrows" meant to tell drivers to share travel lanes.
Council dings outreach
Bike advocates had an uphill battle at the council, which often defers to district members on local issues. On Thursday, several members echoed King's concerns about the Cantrell administration rollout of the bigger bike network.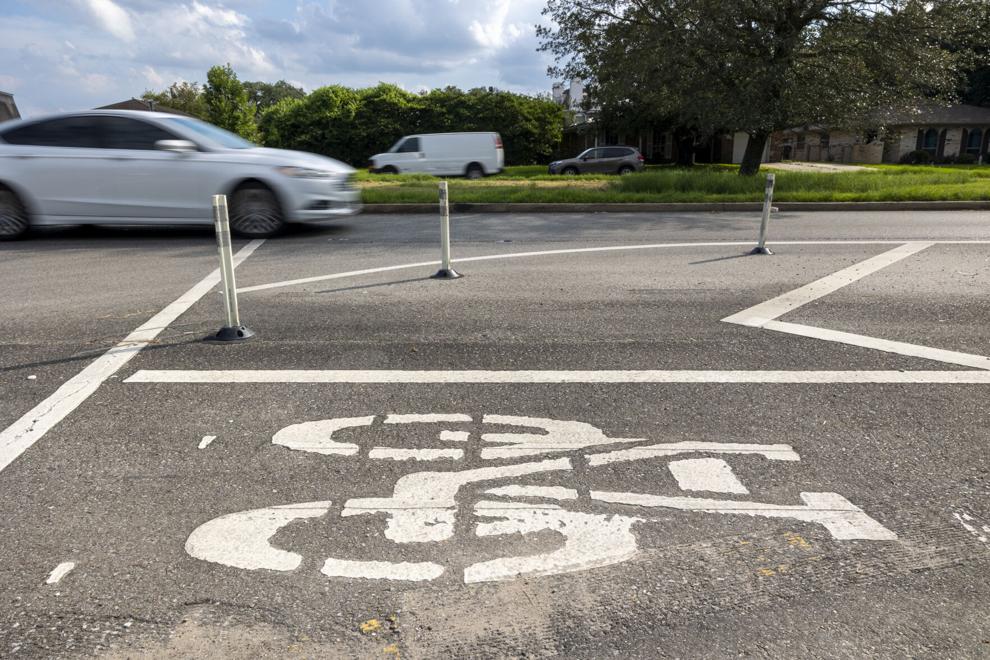 When the administration began pursuing more protected lanes shortly after the Esplanade Avenue crash it was under pressure to make quick safety improvements.
"Get rid of the red tape. I don't mean no harm. But get rid of the wind-bagging so that no mother has to go through this again," the mother of one Esplanade victim told the City Council.
Council members on Thursday suggested that public feedback got lost in the process, however.
Bigger questions
Advocates remain fearful that the ordinance passed Thursday could be the start of a larger backlash. The Our Streets Our Choice Coalition, which organized opposition to the lanes in Algiers, recently took a dig at the outreach process before a road work and bike lane project on Martin Luther King Jr. Boulevard in Central City.
King rejected the notion that bike lanes will be ripped out elsewhere.
"I just want to make clear to those who are residents of the east bank: this will not affect any of your bike lanes," said King, who also represents neighborhoods like the French Quarter and Marigny. "I was asked from residents of Algiers to do this. That's why we're here."
Despite the pushback from Algiers residents, the city hasn't budged from its position that protected bike lanes are needed to make streets safer for everyone. Hours before the vote, the city put out a press release flagging the rising number of injuries and deaths on city streets.
"In 2021, 69 people died while traveling in our city, the highest number of traffic fatalities since 2004 and a 35 percent increase from 2020. An additional 338 people were severely injured on our roads in 2021, the highest since at least 2013," Dr. Jennifer Avegno, director of the New Orleans Health Department and Sarah McLaughlin Porteous, acting director of the Department of Public Works, said in a joint statement.
"These tragedies are nearly all preventable with smart road design, traffic calming measures and individual safe driving behaviors," they said.