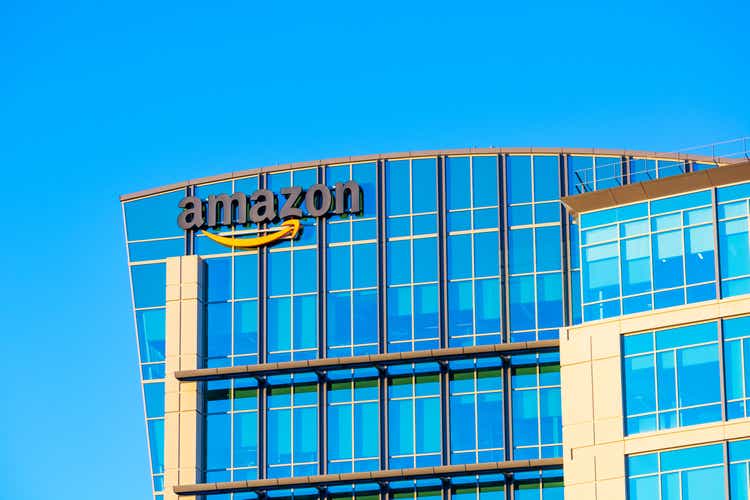 A simple premise
Yes, I recently bought Amazon (NASDAQ:AMZN) shares for the first time since 2016.
Let's cut to the chase if you don't have time to read the entire article.
My thesis is simple: AWS alone justifies an investment today.
The stock has traded sideways for more than two years, but AWS has continued to deliver outstanding growth. As a standalone company, AWS would probably sport the same market cap as Amazon today (more on that later).
AMZN looks terrible on most screens focused on trailing financial metrics. Temporary headwinds are the main issue: Inflationary pressure, supply chain challenges, and a significant equity loss related to Rivian (RIVN).
AMZN is one of the 12 Starter Stocks in the App Economy Portfolio.
Mega caps are usually not at the top of my watch list, but the recent market sell-off has created better entry points.
Amazon fails on several of my screeners due to a relatively low gross margin and a weak balance sheet (I'm not too fond of companies with a net debt position). However, if, like me, you are a long-term investor with a time horizon beyond five years, I believe AMZN offers an attractive risk-reward today.
And it's not just an AWS story.
Prime is getting better. Amazon has accumulated a trove of content, from live sports to high-profile shows and movies. As its exclusive content catalog expands, the subscription's value becomes increasingly strong. Additionally, with the possibility to "buy with Prime" on other websites, the platform is expanding beyond its walled garden. Additionally, Prime's potential is still largely untapped outside of the US.
With more members flocking to its ecosystem, Amazon is turning into an advertising powerhouse that could improve the margin profile of the non-AWS segments.
Finally, I like the recent acquisitions that could boost smart homes and healthcare initiatives. They add optionality.
While the cash flow margins have compressed in recent quarters, I believe the long-term thesis is alive and well. There's a tremendous runway ahead and the potential for the "sum-of-the part" to unlock more shareholder value.
In summary:
AWS justifies the entire valuation.
Prime is expanding its value beyond its walls.
Advertising will improve the margin profile ex-AWS.
Strategic M&A continues to offer optionality to the business.
Meanwhile, the concerns du jour around inflation, labor supply shortages, supply chain challenges, recession, international slowdown, and cash burn are temporary by nature. I trust management in assessing that these should be temporary issues. I expect the traits that look undesirable today to become old news as AWS, subscriptions, and advertising become a larger piece of the overall business.
I look well beyond this cycle and believe the improving margins could lead to market-thumping returns for shareholders.
Are you still here?
Let's dive into more details.
The one chart you must see
Sometimes, a chart is worth a thousand words.
I summarized the flow of Amazon's Q2 FY22 income statement in the diagram below.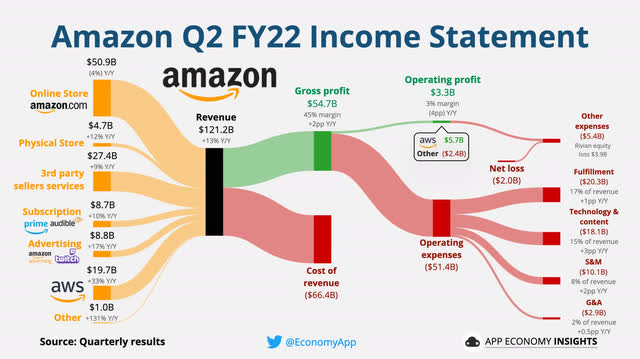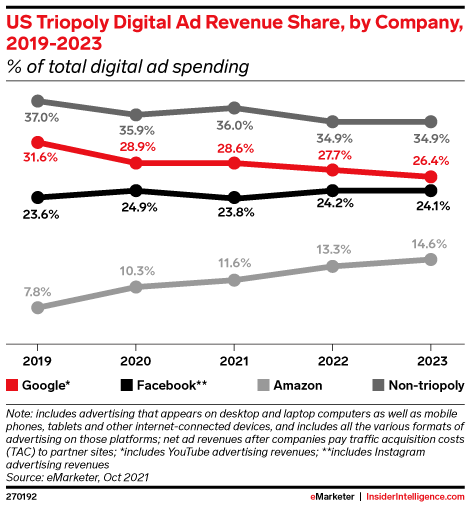 Do you like Amazon's long-term potential from here?
Has the valuation cooled down enough?
What are the main risks and opportunities you see for the company?