Dawn Batts, TechTown Detroit growth capital director, believes a year-old 'angel investing' program could be a "game-changer" for Detroit's economic ecosystem.
Rather than venture capitalists, which use other people's money, like institution funding or high network individuals to fund companies, angel investors are different, says Batts. "Angel, by definition, is someone who uses their own money to support startup companies or other companies," she says. 
TechTown is an entrepreneurial hub in the city of Detroit, and its staff work daily with business startups, host pitch competitions, and find resources for those wanting to grow their companies. The Catalyst Angel program sets out to teach investing to largely underrepresented groups of people across the Great Lakes region. 
One of Batts' roles is to manage the Catalyst Angel program, a partnership between TechTown Detroit, Angel Capital Association (ACA), Ann Arbor Spark (AAS), and VentureWell, that began in October last year.
"It was born out of TechTown's desire to close the generational racial wealth gap," Batts says. "This is one of the ways we think we can do that. The program will recruit 200 under-represented angels in the Great Lakes region. Those angels will then be able to hopefully put more money in the ecosystem to fund more businesses over time."
The program helps emerging investors become contributors, connectors, and catalysts within a growing capital ecosystem. The Catalyst Angel Program focuses on Black, Latinx, and/or women, and offers curated courses and connections with investors in local and national markets. 
Batts thinks about the initiative as having three key points: education, experience, and the ecosystem.
They partner with the Angel Capital Association and teach courses through their Angel University curriculum. Classes are paid for by TechTown, and offered for free to participants, which is a "huge value in learning," says Batts. 
These courses, coupled with experience, are very beneficial. "We partner with Venture Well to provide some hands-on experience through their program called Aspire," Batts says.
Catalyst Angel participant Ellington Ellis, 53, of Detroit, has invested in startups before, but most have been unsuccessful. After learning about the program from the Lawrence Technology University Centrepolis accelerator, he joined. Ellis considers the program to be a "very enlightening experience. "I am learning not only the breadth of angel investing, but the depth of it. The standout point for me was the benefit of angel group-thinking," he says.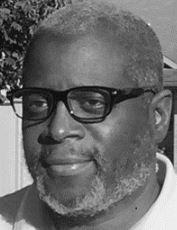 Photo courtesy of Ellington Ellis.Ellis spent years of his life trying to teach others to be independent and self-sufficient, but a paradigm shift happened when he realized those two things actually come from being interdependent. 
"We never arrive until we all arrive," he says. "Becoming wealthy as a person or as a sub-culture group means there must be an external transfer of wealth to the sub-becomings. And the only way for this wealth transfer to occur is to enlighten the wealthy to actively engage in wealth transfer to the less fortunate."
Since TechTown Detroit also provides resources for start-up companies, participants can also gain hands-on experience through their programming like the pitch competitions, and connections to other partnering organizations. "As people are learning, they'll also have interaction with start-up companies, meet them, and it helps demystify the whole investing process."
Batts says it is important to expand the conversation, not only talking about founders, but also investors. "A lot of conversation is around supporting founders," she says. "Sometimes, what we don't hear much about is what we call being on the cap table. We want to make sure that there are people of color, there are more women who are on the cap table, because they too will benefit from a founder or a company doing really well."
With support, education, hands-on experience, and ecosystem engagement, the Catalyst Angel Program assists people with the high-risk nature of investing. "We want to make sure we're providing that support so it is an informed decision, an informed journey with fewer mistakes and hopefully greater rewards," Batts says. 
The program is ongoing until the grant from the U.S. Economic Development Administration ends in Sept. 2024. So far, participants have relayed positive feedback on the coursework, best practices, and nuances of things like due diligence and understanding the high risks.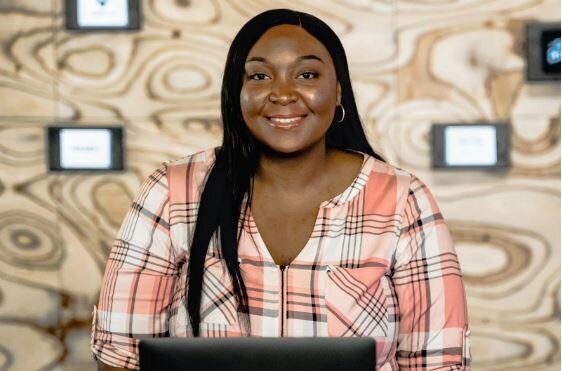 Photo courtesy fo Brittni Abiolu.
Brittni Abiolu has been in the Detroit area since 2007, and attended school at the University of Detroit Mercy. She's an entrepreneur herself, and has done start-up consulting for the past 17 years, helping people with business plans, applying for loans, and getting funding to start and grow their businesses.
Abiolu heard about the program when she was contacted online by Marlo Rencher, TechTown's senior director of tech-based programs. "Marlo Rencher was able to find me on Linkedin, and said, 'hey, it looks like you're an angel investor, and local to Detroit. I think you'd be a great participant for the TechTown Angel Catalyst program.' I was like, 'wow, yeah, I definitely want to do something like this.' I went ahead and signed up for it," she says.
 
Although this isn't the first time Abiolu has invested in startups, she says the curriculum has helped her realize which are actually worth investing in. "What I realized in the program is that angel investors don't invest in great ideas. A lot of people have great ideas," she says. "Angel investors invest in great people and great teams, teams that know the business well enough to execute and do it right. You'll have a better chance of them being successful, and you getting a return on your investment."
 
Programs like this are important to Abiolu because she considers entrepreneurship to be at the heart of a strong community. "You need strong, successful businesses, and those businesses need access to capital," she says. "Sometimes, loans and lines of credit just aren't enough. People need to go beyond that. Having access to capital through angel investors is really important for the continuous growth and economic development of Detroit, and empowering our people locally."
 
The program's target of underrepresented groups, including Black and Latinx people gives access to those who normally don't have an opportunity to invest, says Abiolu. "It's empowering to teach these groups how to angel invest, so they have a better chance in building wealth for themselves," she says. 
 
Abiolu encourages people to give the program a try if it sparks their curiosity. "The program is free of charge, so who can turn down free education, especially when that education is designed to help you increase your wealth significantly?" she says.
While Abiolu and Ellis are just two of the participants, Batts' biggest hope for the program is to find 200 underrepresented angels – a huge task. 
 
"You've got to start with raising the awareness of the asset class, and then the program becomes more important," she says. "My goal would be to have more of the underrepresented groups, including women, aware of the asset class. We would have them come through the program, and then hopefully in the longer term, we will have more money available in the ecosystem for start-up companies."
 
Batts considers angel investing a team sport, one in which participants should engage in an ecosystem, in order to learn about companies, how to invest, and joining with other individuals or teams can be beneficial. 
"There are a number of people who want to go through it together," she says. "They might be part of an organization, or they might have friends and want that feeling of being in a cohort. For some organizations that have that, we've developed cohorts within the program. We're able to have them go through the classes together, create something and celebrate together."
Applicants can fill out an interest form online, or set up an info session privately or as a group. Participants will be accepted on a rolling basis through August 31, 2024.