Against the backdrop of an interconnected and increasingly complex global economy, businesses are now more aware of the vulnerabilities of disruptions. At the same time, investors, legislators and other important stakeholders are piling pressure on companies to act on environmental, social and governance (ESG) issues and demonstrate greater corporate responsibility and transparency.
With more and more businesses realising the need to consider how they operate in the ecological, social and economic surroundings, business leaders must adopt a proactive approach to ESG as it moves from the periphery into the centre of business operations and strategies.
According to IHS Markit, Bursa Malaysia had 235 ESG-mandated funds globally invested in our stock market with a total holding value of US$143.5 billion in February this year. A PwC study last year revealed that 94% of the top 20 Malaysian public listed companies have established ESG strategies. These are positive indicators that ESG is relevant and a key consideration for businesses today.
While there is a lot of chatter around the environmental pillar of ESG, the social and governance pillars — particularly the former — have not been given as much consideration.
The social mandate in ESG looks at issues concerning community relations, customer satisfaction, data protection and privacy policies, and even efforts to fund projects or institutions that help the poor and underserved communities are top of mind for investors today. A greater focus on the social pillar is necessary for the growth of our digital economy, especially in transforming Malaysia into a digitally-enabled and technology-driven nation as outlined in the Malaysia Digital Economy Blueprint.
The power of digitalisation should not be overlooked because digital technology can be harnessed to tackle social challenges in our communities and bridge the social inequality gap.
Digitalising for social well-being
According to Khazanah Research Institute deputy director of research Dr Rachel Gong, digital social well-being hinges on three fundamental digital essentials: interoperability in the digital ecosystem, accessibility in fintech (financial technology) and responsible implementation of data governance.
"The idea here is to enable everyone to reap the benefits of digitalisation. It involves intentionally reducing the digital and data inequalities that would naturally develop out of structural differences in access to resources and skills development," she said, adding that it is in everybody's interest to open the digital ecosystem for these "digital basics" as society becomes increasingly digital by default.
In the same vein, Gong pointed out that when it comes to social well-being, current trends indicate that an increasing number of people — especially Gen Z — are prioritising ESG concerns and more likely to support businesses that do the same.
"There needs to be a shift in attitudes towards ESG to become a primary component of business strategy, not an afterthought after the overall strategic thinking process. Taking ESG seriously means investing seriously in it, which is likely to impact profits. In the long run, the costs are worth it," she said.
Digital inclusion for social impact
For Sea Limited (Malaysia) (Sea) country head Terence Siau, digital inclusion is at the forefront of the company's ESG strategy. Its e-commerce business Shopee, for one, empowers local businesses to adapt to the new normal through value creation in the e-commerce space.
"Our marketplace platform removes the barriers of starting a business for all Malaysians. Using our tools and services, local vendors especially those in rural areas can take their businesses online and expand into national and regional markets to promote and sell their products. We continue to leverage the transformative power of technology to broaden our reach to underserved local communities," he said.
As part of efforts to drive digital inclusion, Sea and Shopee collaborate with government agencies to promote digitalisation among rural vendors and help boost their sales on e-commerce platforms. These efforts are in the form of end-to-end support through their ecosystem, from helping individuals kick-start their entrepreneurial journey and offering training for upskilling to providing opportunities for long-term growth.
Shopee is also focused on accelerating digital inclusion among its vendors through education, training and a seamless onboarding experience such as the Shopee University, Shopee Seller Centre and ShopeeXperts programme.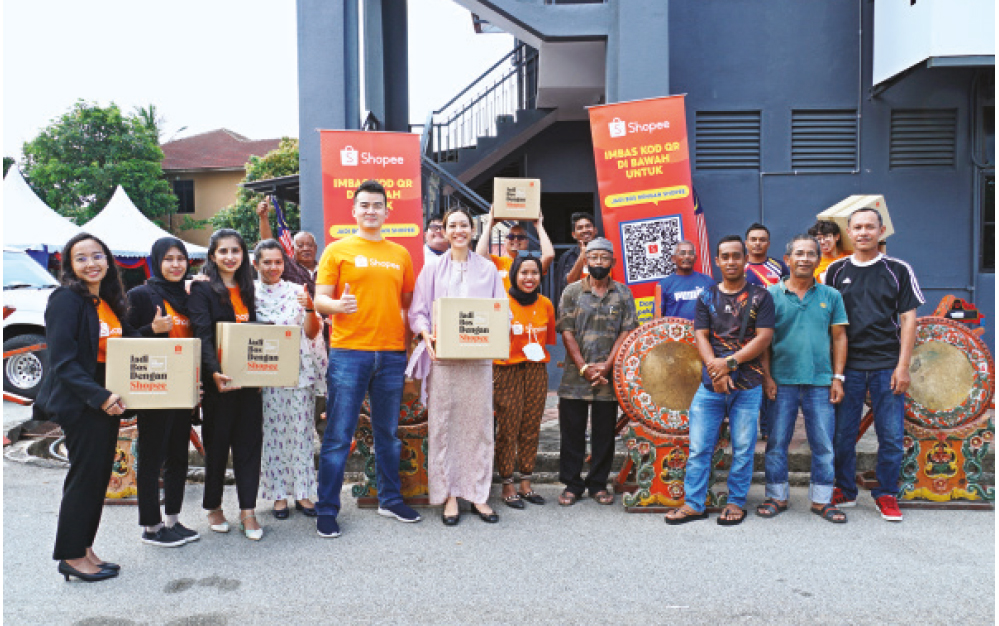 Shopee has an existing collaboration with YTL Foundation, YES by YTL Communications, the Communications and Multimedia Ministry (K-KOM) for the Ketereh Digital Hub in Kelantan, aimed at upskilling and enriching the local community in e-commerce and e-learning.
Meanwhile, Gong believes that one key aspect of the social component in ESG is to engage with persons with disabilities (PWDs).
"Many technologies are a boon for PWDs; for example, texting in the deaf community or speech-to-text for the blind. Intentionally engaging with PWDs and related advocacy groups to learn how they use products can help improve design and testing," she explained.
She added that, seeing how the tech sector is the driver of innovation and has first-mover advantage, those in that sector should be aware that what they set as initial defaults are likely to become norms that follow.
"Inclusive design is essential, both from the back end, such as making systems interoperable and resilient to further technological change; and the front end, making it easier for diverse groups of people to use their tools and products," Gong said.
Banking on digital
Speaking of virtual banking, Siau said that digital banks will be able to provide inclusive services and empower the underserved, offering social development while expanding the digital economy.
"Digital banking platforms remove barriers for the unbanked communities to make and receive payments and manage their finances. It promotes inclusive trade and sustainable development for vendors as well as drives inclusivity and accessibility for Malaysians alike," he said.
Shopee held its 4th annual Seller Summit this year where sellers can network and upskill with sharings from industry leaders and experts.
In April, a consortium led by Sea and YTL Digital Capital (YTL) was among the five companies that were granted Malaysia's digital bank licences by Bank Negara Malaysia.
"Products offered will be simplified to encourage more people to save, invest and grow. Services will also be equipped with personalised recommendations according to one's credit standings, in effect promoting responsible financing," Siau added, touching on Sea-YTL's digital bank.
"With an existing digital divide and the need to gain digital trust among consumers, financial literacy is key. Access to digital financial literacy will be fundamental to the setting up of this digital bank, across all demographics," he said.
Assisting those in need
"The pandemic brought to light the power of driving positive social impact. At Sea, we make this part of our core business strategy with a view to nurturing the growth of the broader digital ecosystem. This is in line with our mission to better the lives of communities through technology," Siau said.
These society-first initiatives are aligned with Gong's views that the focus in driving social impact should be on people rather than the companies.
"Businesses can better understand the needs of the audience or market and work with them to find solutions, not necessarily digital in nature. Even if the final solution is not specifically digital, the efforts to develop it will certainly be," she said.