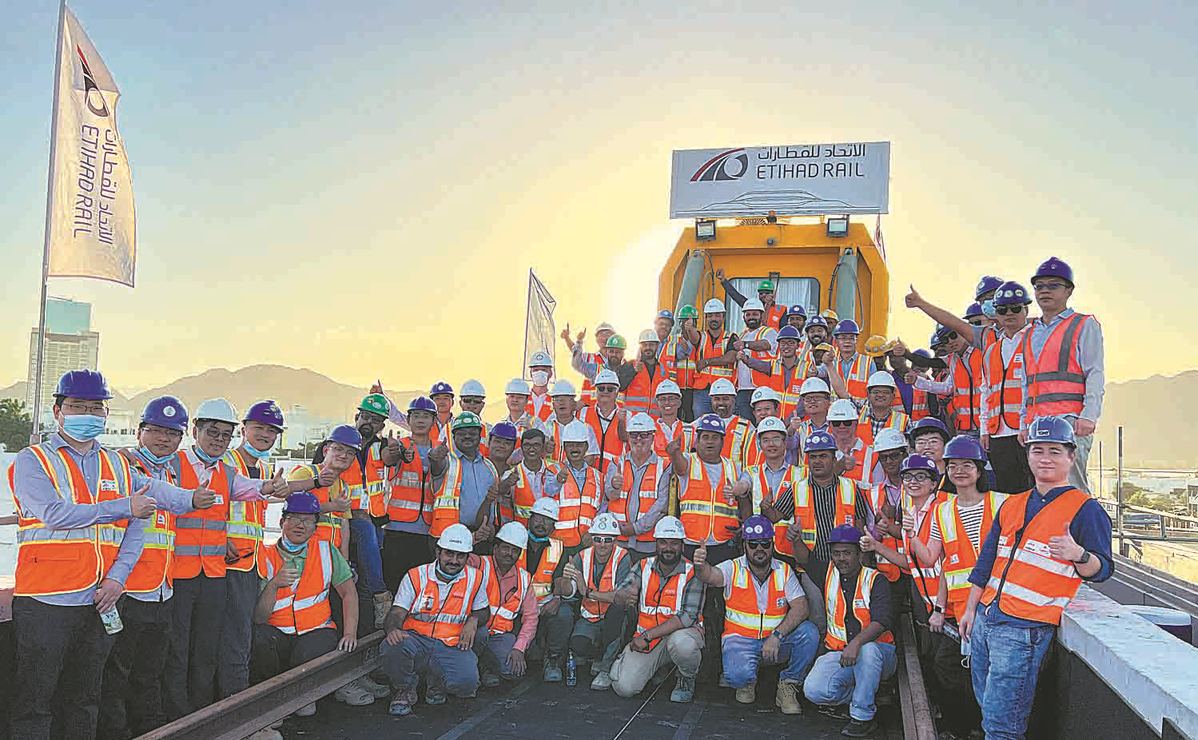 Chinese construction companies ensure that every measure is taken to protect the environment
While building infrastructure such as roads, bridges and railways to improve the lives of people in countries and regions involved in the Belt and Road Initiative, Chinese companies are paying careful attention to protecting the natural environment.
The Etihad Rail Network Stage 2 project in the United Arab Emirates is a major project of the BRI, of which phases B, C, and D have been jointly built by the Chinese construction company China Railway Construction Corporation and local companies. Once completed, it will become a transport artery across Abu Dhabi, Dubai, Sharjah, Ras Al Khaimah and Fujairah.
Wang Lei, president assistant of China Civil Engineering Construction Corporation, a subsidiary of CRCC, and also the project manager of the Etihad Rail Network's Stage 2, said that as work on the project progresses, the construction team rigidly adheres to UAE environmental laws, regulations and standards and practices the concept of green development. That includes planting trees and building fences to protect rare species in an effort to build "a road of green development" for the area.
"While taking root overseas and serving local society, we must always firmly abide by the concept that clean waters and lush mountains are invaluable assets," Wang said. "We must share green development with local people."
The Etihad Rail Network's 650-kilometer Stage 2 project passes through several major national environmental protection sites, royal gardens and large farms, he said.
With a hot climate and average annual rainfall of only about 100 millimeters, the UAE attaches great importance to the natural environment and animal protection. When CRCC planned the railway it assigned a professional team to do thorough research along the line's route and made a record of the animals, plants, air, soil, water sources and cultural heritage in detail to minimize the impact on the environment, Wang said.
For instance, the Mishanad Nature Reserve in Sharjah is home to many rare and mostly nocturnal species. CRCC has spent weeks tracking these nocturnal species, documenting their circumstances, and then deciding whether and how to move them to safer places.
Ma Jun, director of the Institute of Public and Environmental Affairs, an environmental group in Beijing, said that an increasing number of Chinese companies pay attention to environmental protection and conservation as they engage in construction work in countries and regions involved in the BRI.
Low-carbon principles
One reason is that the Chinese government regards environmental protection as being a key principle of Belt and Road collaboration and draws on universally supported rules and standards to formulate green and low-carbon investment principles.
Four Chinese ministries published a key policy document in March on the further greening of the Belt and Road, titled Guidelines on the Joint Implementation of Green Development in the Belt and Road Initiative. The initiative means reducing climate emissions, reducing pollution and protecting biodiversity while providing improved economic opportunities for the countries and regions involved.
"Chinese companies have also learned more about the laws and regulations and cultures of the countries over the years, and realize that better environment, social and governance performance could actually help them do better business," Ma said. "Some of the major companies have gained more capacity to engage with local society and NGOs."
China has signed more than 200 collaboration documents with 149 countries and 32 international organizations involved in the Belt and Road Initiative. Last year the value of goods trade between China and the countries involved in the initiative reached 11.6 trillion yuan ($1.71 trillion), official figures show.
China's decision to end its support to coal power plants overseas is a clear example of China's commitment to green development, Ma said. Because the country's green industries such as wind turbine, solar panel and new energy vehicle manufacturing have grown rapidly, China is well placed to pass on its expertise in green development to its BRI partners.
Saudi Arabia's Red Sea Project is a new tourism hub being developed on the western coast of the country aimed at making cities such as Umluj global tourism destinations.
China Harbour Engineering Company has taken part in the project, including being engaged in island environmental improvement, piling and foundation projects for hotels, and channel dredging.
"In the construction of the BRI projects in the Middle East region, CHEC adheres to the new development concept, and deeply cultivates in every employee the idea of promoting the construction of ecological civilization and harmonious coexistence between humans and nature," said Yang Zhiyuan, general manager of CHEC Middle East Regional Management Center.
In the process, CHEC regards implementing environmental protection measures and protecting the unique marine ecosystem of the Red Sea as an important task, he said. The Red Sea is home to diverse and dense coral reefs. About 70 coral species are known to be within the construction area of the project, providing habitat for tens of thousands of fish and invertebrates that are essential for maintaining biodiversity.
The CHEC team there has set up two protective curtains around the construction islands to minimize the impact, Yang said. The area within 10 meters of the coral reef has been set aside as a coral buffer reserve. If construction work risks increasing the turbidity of the water, a continuous and closed anti-pollution curtain is set up. No-navigation and no-anchoring zones have been set up in areas where there are coral reefs to prevent direct damage to the seabed and the ocean.
To ensure that water quality meets the survival conditions of coral, the team also monitors the concentration of suspended substances in sewage and turbidity in the surrounding waters of the construction area. If water quality is compromised the team is committed to slowing or even halting construction to take remedial measures, Yang said.
Efforts appreciated
"Any time we go into a new construction area we find out how many sea birds and their eggs there are and get professionals to safely transfer them to prevent damage or set up a security isolation buffer area to avoid disturbing them."
Mostak Ahamed Galib, director of cross-cultural communication and the BRI research center at the Wuhan University of Technology, said that domestically China has achieved a lot in ensuring a cleaner environment over the past 10 years.
China ranks first globally in the area of planted forests and forest coverage growth, contributing a quarter of the world's new forest area over that time. China has phased out coal used in heating in more than 27 million rural households and stepped up the development of various forms of installed renewable energy. China is also now the world's leader in its installed capacity of wind, photovoltaic, hydro and biomass power, Galib said.
Moreover, institutional innovation has also been achieved to protect the environment.
Thanks to China's green drive, it has cut its carbon emissions by 34.4 percent over the past 10 years, he said.
"BRI is a platform by which China can pass on its expertise to others."
While talking about China's construction projects under the BRI initiative, Galib said that "every bridge, every road, and railway they build, the priority was sustainability".
The Mombasa-Nairobi Standard Gauge Railway in Kenya is a great example, he said, one in which the Chinese contractor took innovative steps to protect wild animals.