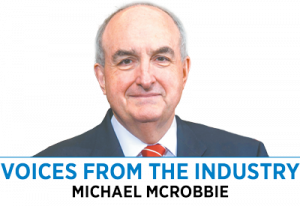 This year marks the 25th anniversary of the beginning of one of Indiana's most important contributions to the infrastructure that is fundamental to the nation's research and education enterprise.
Indiana University was selected in 1998 to operate and manage the advanced ultra-high-speed Internet2 computer network that today connects hundreds of America's leading research universities and thousands of other education and research institutions, libraries and medical facilities. Internet2 is used daily nationwide by millions of researchers, scholars and students.
It provides them with the capacity to move or retrieve, from anywhere in the United States or the world, the massive amounts of data essential today in almost any scientific or scholarly field. In a very real sense, it has made Indiana the electronic crossroads of America connecting the country's information superhighways for research and education.
The mid-1990s saw a massive global explosion in the use of the internet. At that time, the nation's principal internet network was NSFNET, funded just to support research and education at the nation's universities by the federal government's National Science Foundation. But the explosion in use of NSFNET by others led to its being privatized and made open to all, which led ultimately to today's commercial internet network behemoths.
The national economic benefits of this were immense and the societal impact profound. However, scientists and researchers all over the country became concerned that, because their needs were very different from those of the commercial internet, they would no longer have access to the fast high-capacity networks they anticipated needing to support the advanced data-intensive science and research of the future, much of it distributed around the globe.
So the Internet2 organization was born. It was a bold and visionary response initially by about 40 of the nation's leading research universities (including IU and Purdue) to these seismic developments. Its name was deliberately suggestive of the next phase or generation of the internet, and it was announced at the White House in 1998 by then-Vice President Al Gore.
Its goal was to establish an advanced ultra-high-speed network to support the massive data and information needs of the nation's research and education enterprise, one that would constantly evolve in speed and other advanced capabilities to keep pace with the cutting edge of telecommunications technologies.
It was this network, known originally as Abilene and now just as Internet2, that IU was selected to operate and manage 25 years ago. To do this, IU in 1998 established the Global Network Operations Center, now known as the GlobalNOC.
I had the great privilege as IU's then-vice president for information technology, to have led its establishment and other initiatives in this area that followed over subsequent years. Hence, it was particularly gratifying when it was recently announced that Internet2 had, after an exhaustive RFP process, once again chosen the GlobalNOC to operate and manage the Internet2 network for the next three years.
By any measure, the GlobalNOC has been a massive success. It has grown from a handful of employees supporting the original Internet2 into the country's leading and largest research and education network operation center.
It is a highly sophisticated and constantly growing technology nerve center with more than 120 world-class and highly qualified network engineers, technicians and developers at facilities in Indianapolis and Bloomington.
Collectively, they support more than 20 highly advanced research and education networks in Indiana, nationally and globally. It is estimated that, by 2027, the GlobalNOC will have brought over $350 million in external funding into Indiana.
Every day, this network has enabled scientists and researchers here in Indiana and throughout the United States to make faster discoveries in areas critical to economic development and public health, such as advanced manufacturing and engineering, semiconductor design and novel materials, health care and biomedical sciences, artificial intelligence and machine learning, big data analytics, and weather and climate studies.
The success story of the GlobalNOC would be incomplete, however, without crediting the vision and foresight that has been exhibited by the Indiana Legislature and successive administrations over 25 years.
When the announcement was made in 1998 that Indiana University had been chosen to operate and manage Internet2, then-Gov. Frank O'Bannon said this initiative had "the strongest support and endorsement of the State of Indiana." And this has never wavered over subsequent administrations.
This support has involved the resources to install successive fiber-optic networks in the state, growing eventually to become Indiana's I-Light education and research network, one of the most advanced in the nation, which is operated and managed by the GlobalNOC.
It involves more than 1,000 miles of fiber-optic cable reaching every corner of the state and today provides reliable, rapid-speed connectivity to nearly every one of Indiana's colleges and universities, ensuring that they can connect seamlessly not only with one another but also with their peers around the nation and the world.
Public and private organizations throughout the state are preparing to seize the extensive opportunities opened up by the CHIPS and Science Act, the largest investment in science and technology in the United States since the early days of the space race, and in which Indiana's own Sen. Todd Young played such a crucial and pivotal role. The investment by the state and IU over 25 years to build the state's optical fiber networks and the GlobalNOC has positioned Indiana extremely well for some of the remarkable opportunities presented by CHIPS.
Throughout CHIPS, numerous references can be found to programs in advanced communications and technologies. Further, access to ultra-high-speed networks with ever-evolving capabilities are fundamental to many other key areas mentioned in the act. They are also essential to nearly every one of the 10 proposed technology focus areas of the NSF's new Technology, Innovation and Partnerships Directorate funded under CHIPS. Some of the exciting opportunities might include:
◗ A collaborative Midwest high-speed network to support research and education in the rapidly developing semiconductor sector in this region.
◗ An advanced secure "unhackable" quantum communications network test bed (quantum technologies are a major focus of CHIPS).
◗ Prototype deployment of the most advanced semiconductor hardware components into the networks the GlobalNOC operates. (The telecommunications sector represents half of all semiconductor end use, according to the Telecommunications Industry Association).
◗ Providing some of the massive network needs of the grand challenges, such as building a zetta-scale supercomputer (1,000 times more powerful than today's most powerful supercomputer), identified in the President's Council of Advisors on Science and Technology report on "Revitalizing the U.S. Semiconductor Ecosystem" that arose from CHIPS.
◗ Partnering in developing networks of distributed arrays of sensors for engineered geological and ecological systems in carbon sequestration and climate adaptation.
And there are many more—all having been made possible through long-term investment in the state in advanced computer networks.•
__________
McRobbie is university chancellor, university professor and president emeritus of Indiana University.