Stuart Brown has spent lots of time looking into the future of Louisiana's coast.
As the state Coastal Protection and Restoration Authority's assistant administrator for planning and research, he has become the lead spokesman for the 2023 coastal master plan update, released on Jan. 6 in draft form. Brown has led the rewriting effort for the plan, updated every six years and intended to guide the state's coastal restoration efforts. The interview has been edited for length and clarity.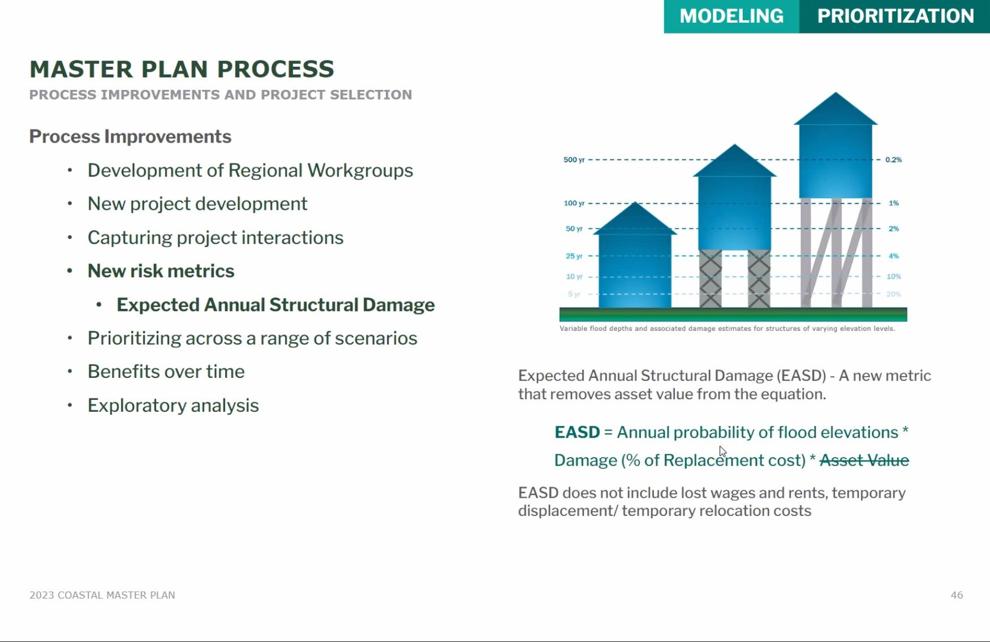 Does the update help explain what the future coast might look like?
One thing we really want to focus on with this edition is illustrating how the coast is going to change and how citizens of the coast may experience that change. So in evaluating the projects, we built tools to understand what the future coast will look like, how different interventions will alter how that future coast may look, and how folks may experience future risk, whether it's changes in access to natural resources or changes in flood risk. In the plan, we have sections for reach region, kind of story lines, for what coastal change may mean for individual communities.
One way we're illustrating this is through a high tide flood analysis, looking at non-storm surge flooding associated with normal frontal passage during high tides, thinks that now may occur a few times a year, or every couple of years. But as we look into the future, with continued sea level rise and subsidence, this kind of routine flooding is going to become more and more frequent. So we looked in these communities at important transportation routes or landmarks and showed how frequently they will be exposed to flooding now, in 25 years, and in 50 years under what we call our lower scenario of sea level rise and subsidence.


(Two examples in the master plan are for the communities of Delcambre in Vermilion Parish, and Dulac, in Terrebonne Parish. In Delcambre, The Bayou Carlin Cove boat landing sees no tidal flooding today, but would see flooding on up to 24 days in 25 years and between 49 and 52 days in year 50. The East Main Street and South President Street low area now sees floodwater up to 4 days a year, which would increase to between 30 and 50 days in 25 years, between 49 and 52 days in 50 years. For Dulac, the Dulac Community Center sees tidal flooding up to 31 days a year today, and would see that rise to between 49 and 52 days in both year 25 and year 50.)
A particularly stark example we used was running hurricane storm surge in lower Lafourche on the Larose-Golden Meadow levee system in future years with subsidence and sea level rise.
About 50 years from now, again with continued sea level rise and subsidence, we do see overtopping of those levees, resulting in over a billion dollars of damage. We hope that helps people understand what some of these future projections really mean.
(The plan includes $500 million to elevate that levee to between 12 and 21 feet, to keep up with the expected rise in surge heights, with the work to be conducted in the plan's last 30 years.)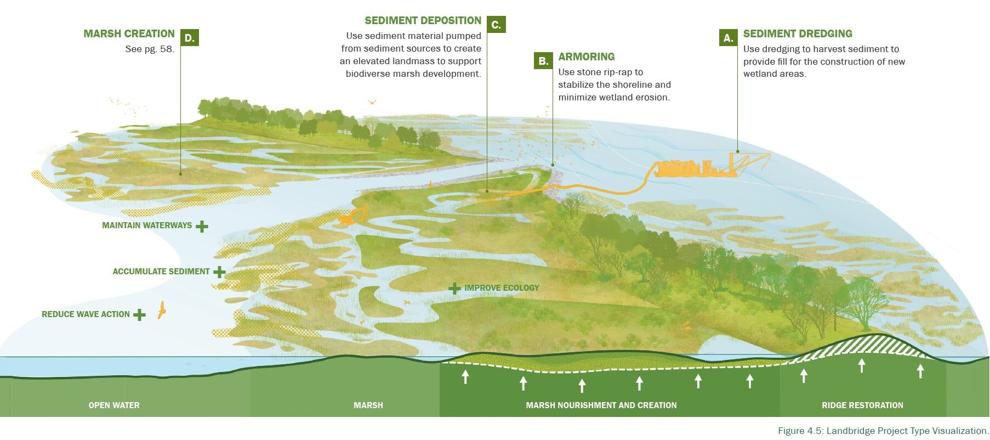 Are there some other more important new projects in the plan?
Land bridge projects are another concept we're looking at in more detail in this master plan. These are more substantial than our typical marsh creation projects. They're meant to not only build and create wetland habitat, like a marsh creation project, but also create or have hydrologic impacts on a basin, limiting salinity from intruding further into the basin, and sometimes limiting water levels. And they're intended to have an impact beyond just the project footprint.
(A land bridge often contains wetlands and a higher ridge aimed at blocking the inland flow of water that also can be used to grow trees.)

We also went from about $6 billion allocated for nonstructural risk reduction in the 2017 plan to over $11 billion in the 2023 plan, and this is described as a critical piece of our risk reduction strategy: the elevation and floodproofing of structure and the potential for voluntary acquisition in areas now subject or in the future subject to flooding.
(Many of these projects actually will be funded through other state or federal agencies, including the Army Corps of Engineers and the Federal Emergency Management Agency, and the Louisiana Governor's office of Homeland Security and Emergency Preparedness.)
How are sediment and freshwater diversions used in the new plan?
The Mid-Barataria and Mid-Breton Sediment Diversions and the Mississippi River Reintroduction into Maurepas Swamp projects all are considered as being already approved, so they're not part of the 2023 list of new projects. But one of the outcomes of our analyses of other proposed diversions is there are going to be a lot more interactions between them and the Mid- diversions, and what we're seeing is a need for smaller scales for future upper basin diversions, maybe in the 25,000 cubic feet per second range. The Ama diversion proposed in the 2017 plan just upriver of Davis Pond had been proposed to be a 50,000 cubic feet per second diversion. We've allocated money for further study, design and construction for some of those diversions. They're still going to be an important part of our restoration strategy, but there needs to be additional work on how to best manage them across basins and in coordination with the larger diversions.
A master plan data viewer also is available online.
This work is supported with a grant funded by the Walton Family Foundation and administered by the Society of Environmental Journalists.