Aanchal Magazine: As the economy recovers from the pandemic, there are apprehensions about the cleavages in the recovery story, especially the widening gap between how small enterprises are doing versus the bigger companies. What is your sense about the struggles of smaller entrepreneurs?
In India, due to the pandemic, around 20 per cent of small businesses permanently shut down. The government has come up with stimulus, and one major relief is the emergency credit line, which will help the rest of small businesses to sustain and grow. These small businesses create more employment than the organised sector, so that is also affected. We had come out with a report about close to 10 service sectors which were badly hit — tourism, hospitality and event management — and needed support. In India, nearly 55 per cent of the revenue share (to the GDP) comes from the service sector but there is no support system (for it). After we discussed this issue with the Finance Minister and RBI Governor, they came up with a package for the service sector. The PM SVANidhi Scheme, under which the government provides Rs 10,000 as support to street vendors, is a first. Though some sectors still face problems, the economic cycle is getting back on track.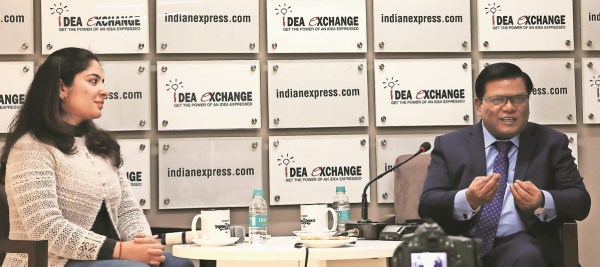 Milind Kamble, Founder Chairman, Dalit Indian Chamber of Commerce and Industry, and Chairman, IIM-Jammu, with (left) Aanchal Magazine (Express Photo by Renuka Puri)
Aanchal Magazine: We also saw a lot of urban-to-rural migration during the pandemic and a complete reversal has still not happened, leading to a higher share of employment in agriculture. How is that trend panning out?
The construction industry and hospitality industry have seen major migration from the service sector. I was speaking to the President of Lemon Tree, which has a chain of hotels. He said that bookings are full but I'm operating on 50 per cent labour capacity. We are also seeing revenge tourism. Migration has affected other areas as well and there is shortage of labour. The dependency on rural agriculture should go down but I don't know when the migrants will return to cities.
Aanchal Magazine: You have often spoken about how SCs and STs face difficulties in access to capital. On this recovery path, bigger corporates are seeing a cleaning up of balance sheets. How is it for smaller entrepreneurs?
Bigger corporates have different reserves, which help them sustain. SC and ST entrepreneurs and SMEs don't have such reserves. One of the problems they face is the recovery of outstanding dues. The RBI had decided on lending rules, according to which lending should happen on 20 per cent of the turnover. We suggested that the 20 per cent credit line should be increased. Thereafter, under the Emergency Credit Line Guarantee Scheme, they gave support of 30 per cent. We intervened with a few banks that were refusing to provide credit to SC/ST businesses and ensured they got emergency credit line support. Entrepreneurs who have shifted to other professions will return to their (primary) business but it will take some time.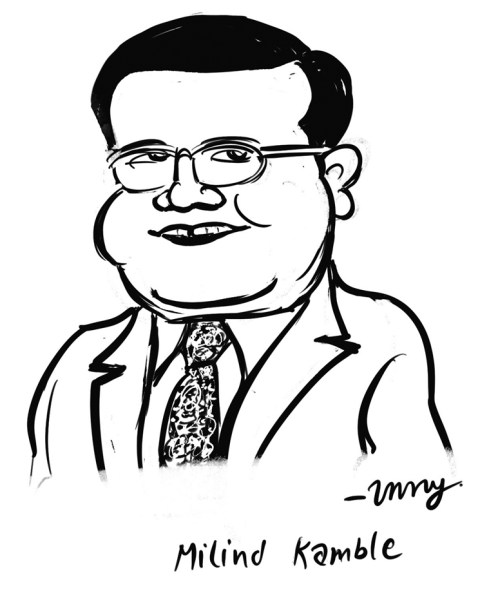 P Vaidyanathan Iyer: It seems affirmative action has taken a backseat. For instance, the Confederation of Indian Industry (CII) had appointed an ombudsman for affirmative action but it did not continue. The CII had also done a survey on employment of SCs and STs in the private sector, but it's been 15 years. Have you revisited that?
The affirmative action agenda voluntarily came from the industry and they said it did not require government legislation. Initially there was some push but over time affirmative action has derailed off the industry's agenda. We are a partner with CII on affirmative action. It's our constant effort to keep it on track. We are going to start giving affirmative action awards to acknowledge those doing good work in the industry. In the survey, we found that in places like Tata Steel or Bajaj, 40 per cent of the on-floor workers are SCs and STs but there are none, or maybe just a handful, in the managerial and board-level positions. In the Central government, class-4 and class-3 reservations are full but you will not find many SC/ ST in senior positions.
At the PMO level, meetings on affirmative action happen in one-two years but the government has delegated this work to the Department for Promotion of Industry and Internal Trade (DPIIT), which conducts quarterly meetings with the additional secretary. CII, FICCI, ASSOCHAM, PHD Chamber and DICCI are also asked what we are doing for affirmative action. According to me, there is a problem with implementation. The top management might be convinced but for employment diversity, HR managers should be sensitised, and for supplier diversity, procurement officers need sensitisation. To set the agenda, we have introduced the four Es of affirmative action — employment, employability, entrepreneurship and education.
The law which came in for 2 per cent CSR spending, they say we are renovating schools, distributing kits in schools… So, CSR has derailed (affirmative action), everyone feels they are doing it… I often say CSR is different, it is philanthropy, but affirmative action is a commitment to the government.
To help SC/ST entrepreneurs make their businesses scalable or sustainable, they need managerial inputs and technology support. Under affirmative action, CII and DICCI have spoken to B-schools and close to 10 agreed to work on affirmative action. This is a three-month hybrid online course. Every year, we will connect 500 SC/ST entrepreneurs to the country's different IIMs through diversity cells. CII will also provide them with an industry mentor, who will not only guide them but also support them by buying products or services.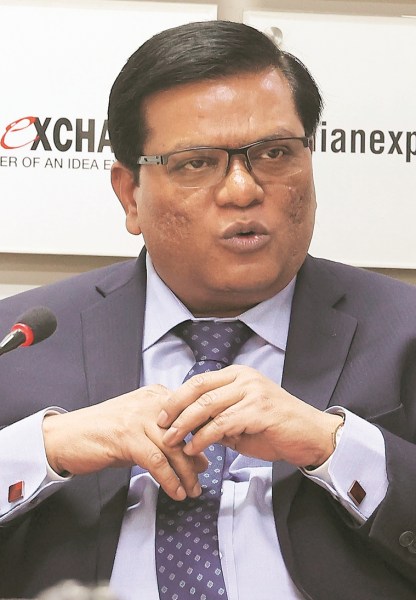 Milind Kamble, Founder Chairman, Dalit Indian Chamber of Commerce and Industry, and Chairman, IIM-Jammu.
P Vaidyanathan Iyer: Under affirmative action in employment, have any of the 30 Sensex companies or 50 Nifty companies said that they will not look at merit only but affirmative action as an employability criteria?
There have been no special efforts from the industry. For example, there's a circular from the GoI's Ministry of Education for IITs and IIMs to fill up vacancies for SCs and STs. They find reasons — they aren't getting suitable candidates. This is a standard answer. In IIM Jammu, there are 10 faculty members from Scheduled Castes and two from Scheduled Tribes. You cannot differentiate if someone is from the general category or SC or ST. Students' feedback has been very positive. If there is a will, there is a way. Ratan Tata asked me and B Muthuraman (President of CII) to draft an affirmative action policy. We identified people to become vendors for Tata. Tata got around 400 SC/ST entrepreneurs as suppliers. There is a lack of will from the industry's side.
Why Milind kamble
Founder Chairman of Dalit Indian Chamber of Commerce and Industry (DICCI) and Chairman, Board of Governors, IIM-Jammu, Milind Kamble has been pushing the idea of 'Dalit capitalism' within the Dalit community — that they should embrace capitalism, strive to become entrepreneurs, build enterprises and generate jobs. He has worked closely with the government and corporate India to create an ecosystem that encourages and supports Dalits to turn into businesspersons. A Padma Shri awardee, a businessman himself, Kamble is a member in several committees set up by the government.
Shyamlal Yadav: Vacancies from joint secretary to deputy secretary level are being filled through lateral entry. Why is there not a single Dalit or OBC in these positions?
It is true that everyone should get an opportunity through lateral entry. I will definitely bring up this issue at a proper forum.
Shyamlal Yadav: Under the Stand-Up India scheme, the government aimed to provide bank loans to at least one SC and ST borrower and at least one woman per branch. Close to 60 per cent bank branches haven't given loans to even one SC/ST borrower. What do you have to say regarding this?
The scheme was my brainchild. Under it, each bank branch should support one SC or ST youth. The scheme was announced on August 15, 2015, and was officially launched in May 2016 from Noida. So far, 40,000 SC/ST youths have received loans totalling Rs 8,000 crore. It did not achieve its target in three years, and now the target has been pushed to 2025. The Department of Financial Services (DFS) is monitoring and there is pressure on the banks. We have achieved the target of giving loans to 1.25 lakh women entrepreneurs.
Shyamlal Yadav: You are a member of the Steering Committee for education planning. If you could talk about the plan for teaching engineering and medical in regional languages.
The new National Education Policy (NEP) 2020 is being drafted after 30-35 years. The curriculum is being made. Many in the education sector feel children grasp concepts better in regional languages. States themselves are demanding that studies should be done in regional languages.
Sourav Roy Barman: The caste census is going to happen in Bihar. Last year, the Centre stated in the Supreme Court that it is not feasible to carry out a caste census. The country is divided into two opinions. What's yours?
The census will happen according to the guidelines of India's Census Commissioner. Within the state's purview, they can do it. In Maharashtra, too, there is a caste census. In the Central government census, they cover all religions, seven-eight religions, even those who don't write a religion… their census happens, SC, ST. What the Bihar government is doing, for their assessment, the census can happen.
Shyamlal Yadav: The Centre has made a sub-categorisation commission for OBCs and there's a creamy layer in OBCs too. Shouldn't there be a creamy layer in SCs as well?
This is a larger issue. In the Constitution, the spirit of affirmative action is an opportunity. My father got a job through reservation and he was a primary-school teacher. I got admission, not a scholarship. I gave up reservation for my daughter because I am capable of educating her. For 11th grade, I got her admitted under the general category and someone said I snatched a seat in the category. When she finished class 12th, her percentage was good and she did management in Pune, where I got her admitted in the management category, and didn't snatch anyone's seat.
My point is, Ambedkar's reservation is a runway. You come on that runway, gather speed and take off. Don't keep roaming on the runway. If you won't take off, how will another flight take off? Whether we should have a creamy layer is a political discourse.
Sourav Roy Barman: When it comes to reservation in the private sector, there are many constitutional implications. As jobs in the government sector are decreasing, will there be more demand for such quotas?
The Dalit community has been demanding reservation in the private sector for a long time. It began in 2002-03, when Meira Kumar was the social justice minister and Manmohan Singh was the PM. He interacted with the industry and they said they have the constitutional freedom to set up industry anywhere, choose employment etc. As a responsibility, he made a committee for the industry where JJ Irani was the chair and the major chambers included CII and ASSOCHAM. After a lot of discussion, the industry said we'll shoulder the responsibility of Scheduled Castes and Scheduled Tribes but the initiative has derailed.
Shyamlal Yadav: Do you think there is anything that this government has done for OBCs/STs/SCs that earlier governments couldn't do?
As an industry body we work with the government. In Modiji's regime, many schemes and benefits have happened. In a scheme like MUDRA, average lending is Rs 45,000. On the MUDRA website, it lists beneficiaries from 2015-16 till today. A total of Rs 18 crore lending has happened and most is to SC/ST/OBC. In Jan Dhan, for most accounts, they are the beneficiaries.
I work for the SC/ST youth and it's the best time for them to go for start-ups or businesses. In 2012, there was an amendment in the MSME Act and the 4 per cent procurement law was made. It was voluntary for three years. From 2015, 4 per cent procurement from SC/ST became mandatory. Despite the pandemic, in the last financial year, more than 1,200 crore procurement happened from SC/ST. In MUDRA, which offers support of Rs 50,000 to one lakh, approximately four lakh beneficiaries are SC/ST. Stand-Up India, there are 40,000, and has to be 1.5 lakh. A venture capital fund was made for SC. National SC/ST hub was made in the ministry of MSME for hand-holding and capacity building. So in Modiji's time, an institutional support system has come up to promote SC/ST entrepreneurship. In the diversity cell initiative, the government will give Rs 1 lakh to the entrepreneur. All IITs are onboard for technology support. Under the Ambedkar Social Innovation and Incubation Mission, Rs 30 lakh seed funding is given to an SC youth above 18 years who has a technology-based business idea that can be commercialised. Last year, an innovation competition, Dr Ambedkar Young Entrepreneur League, was held and 1,100 ideas were registered.
Aanchal Magazine: You mentioned 4 per cent procurement is mandatory, is it actually 4 per cent?
It's only .75 per cent. We are working towards 4 per cent. It is again about the mindset. It doesn't matter if it's a PSU.
Anil Sasi: The target has been 4 per cent for six-seven years. Which are the PSUs or government departments where it is 1 per cent or above?
In the petroleum sector, there are 10-12 PSUs that are doing fine, but no PSU has completed the 4 per cent target. This year has been the highest. Everything can be tracked on the MSME Sambandh portal, where all PSUs have been told to share their annual procurement plan. Many vendor development programmes, matchmaking and exhibitions have been organised by us, we have created support for people who are not used to e-tendering. We aren't happy that it's 4 per cent but at least we have
exceeded Rs 1,000 crore. In the next financial year, I hope it reaches Rs 2,000 crore.
Aakash Joshi: During the UPA government, public sector education, especially central universities, underwent an expansion, so reservation in higher education also expanded. After NEP, there are more private universities. How will this affect the SC/ST/OBC labour force coming in?
Government schools and colleges should also become competent. If someone wants to open a private university they can, but our appeal will be that the admissions, faculty should be inclusive in the private sector too… IITs, NITs and IIMs are competent, there is student recruitment for SC/ST.
Sourav Roy Barman: You're part of the National Steering Committee on NCF (National Curriculum Framework). What are the steps you are taking to make children more caste sensitive?
We are working on the pre-primary level, and in three years up to 10th grade will be done. The curriculum should be inclusive, affordable and accessible. The way we are progressing with technology, slowly the mindset will change and equal education might happen. We will also make a curriculum for teachers. At the school level, it is equal footing. In the curriculum we won't teach about the caste system, it's not even correct. A group is working on the promotion of inclusive education, and equality should be encouraged among children.
P Vaidyanathan Iyer: What do you hope to achieve through DICCI NextGen, the new forum for young Dalit entrepreneurs?
In 2005, we established DICCI and we have conducted several activities and worked with the government on policies to support SC/ST. The Dalit discourse had a Left influence, and their well-being was considered state responsibility. We decided that we also want to do something. So in the Dalit discourse, the establishment of DICCI was a disruptive idea, and with DICCI NextGen we are trying to disrupt our own status quo. The thinking of the SC/ST youth now is very different. DICCI has the cream of society and we are addressing their aspirations. One of our initiatives aspires to transform small businesses into an organised sector. Entrepreneurs below the age of 35 will come under NextGen. A middle class is emerging very fast among SCs.