The January 2022 fire at the Winston Weaver fertilizer plant was a "wake-up call" that inspired a $1 million Melon Foundation grant to Wake Forest University for the creation of a program aimed at advancing environmental justice locally, the school announced this past week.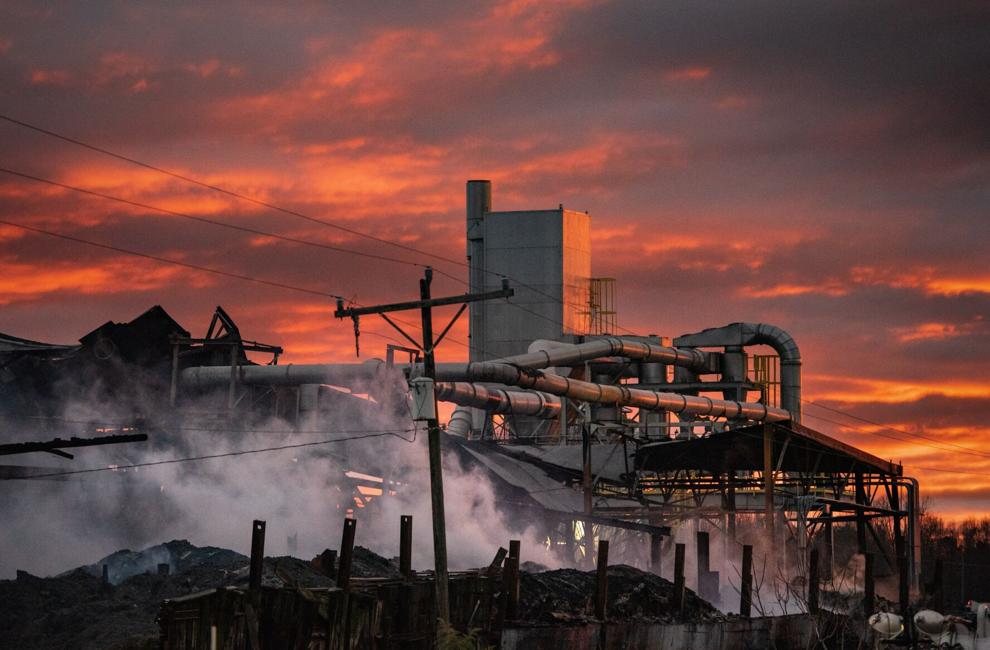 "This is an opportunity to develop a cross-institutional program that leverages the strength of our liberal arts tradition and models new ways to engage the humanities and sciences to address the pressing challenges facing our society and world," said Corey D.B. Walker, a Wake Forest professor of humanities who will lead the project.
Walker, also director of Wake Forest's African American Studies Program and interim dean of the School of Divinity, noted that the Weaver fire exposed historic and ongoing legacies of race, racism and environmental injustice in Winston-Salem and illustrated the urgency of the work the grant will fund.
"In many ways, Weaver served as a wake-up call to initiate, support and sustain a model intellectual community built on the principles of collaboration, creativity and commitment to our deepest values," Walker said. "I want us to create something together. We have a responsibility to do this important work." 
The fire broke out Jan. 31 and took days to extinguish. Concerned over a potential explosion of 500 tons of ammonium nitrate stored at the plant, emergency management officials issued a voluntary evacuation order affecting about 6,000 residents in an area overwhelmingly populated by people of color who live in households with incomes well below average for the city.
Ammonium nitrate, a common ingredient in fertilizer, is used as an explosive for mining and other commercial uses.
Firefighters initially retreated from the flames, which threatened to spark what Winston-Salem Fire Chief Trey Mayo declared could have been "one of the worst explosions in U.S. history," until the threat of a blast had subsided.
Smoke from the fire led to air-quality readings as much as seven times worse than what the Environmental Protection Agency classifies as "hazardous," and chemical-laden runoff flowed from the site into Monarcas and Mill creeks, killing fish and prompting the city to issue an alert encouraging residents to avoid those waters.
The Weaver fire uncovered environmental and industrial threats faced by already-vulnerable communities. 
In Winston-Salem, 23 U.S. Census tracts include at least one area zoned for the most intense industrial uses, including manufacturing, assembling and fabricating, according to Journal analysis of Forsyth County land-use maps.
Of the nearly 100,000 residents living in those tracts, more than two-thirds are people of color while the combined population outside those areas is majority white.
Overall, the average household incomes of Winston-Salem census tracts with general industrial zoning are 42% lower than those without areas designated for heavy manufacturing.
And 18 of the 23 tracts with general industrial areas — including the one where the Winston Weaver fire took place and two others with borders that come within a few hundred feet of the site — qualify for housing tax credits from the U.S. Department of Housing and Urban Development because at least 50% of households have incomes below 60% of the area median.
'Radically collaborative'
Starting with a partnership between Wake Forest's African American Studies and Environmental Studies programs, the scope of the grant-funded work will extend to departments across campus and into the community, the university said.
"This project reflects the best that Wake Forest offers in interdisciplinary, radically collaborative, community-centric, humanistic inquiry," said Wake Forest President Susan R. Wente.
The aim of the three-year program  — called "Environmental and Epistemic Justice: A Transformative Humanistic Model for Science and Technology Studies" — is to develop a curriculum focused on environmental justice by building on local STEM (science, technology, engineering and math) programs supported by earlier Mellon grants, the university said.
"Approaching research, teaching and environmental justice with a humanities lens means we can unleash collaborative critical thinking to find unique solutions to our world's most challenging problems," said Wake Forest Provost Michele Gillespie. "Our Winston-Salem community is home to universities and community-based organizations and networks that can partner with Wake Forest in this effort."
Initiatives to be funded by the new grant include:
Four to five public education programs, through the Wake Forest Environmental Justice Forum, in which citizens, environmental justice advocates, journalists and local officials will engage in conversations and debates.
A fellowship program for eight faculty members per academic year to share research and teaching on "new knowledge born out of the intersection of African American Studies and Environmental Studies."
A Community Environmental Justice Fellows program for community partner organizations. Fellows will focus on a specific issue or topic related to race, racialization and the environment that will link classrooms, the campus and community.
An Environmental Justice Research Seminar to "critically examine, address and engage fresh perspectives on race, racialization and the environment."  
The Science, Justice and Society Summer Institute for faculty from Wake Forest, Winston-Salem State and Salem College as well as invited scholars, activists and public officials.
The grant will also support paid research opportunities for undergraduate students and two new full-time positions: a project coordinator and a postdoctoral fellow.
The latest project builds on work funded by a four-year $850,000 Mellon grant awarded to Wake Forest in 2018 that supported "The Humanities Engaged" program and expanded the university's humanities-based efforts in the community through seminars, oral history projects, research and discussions.
Wake Forest also hosted a national conference on "The University and the Neighborhood" in November.
In 2015, Wake Forest received a $650,000 Mellon grant to expand its interdisciplinary humanities research, teaching practices, and public scholarship. The three-year grant funded, among other things, the creation of a digital humanities design studio in Z. Smith Reynolds Library. 
John Deem covers climate change and the environment in the Triad and Northwest North Carolina. His work is funded by a grant from the 1Earth Fund and the Z. Smith Reynolds Foundation.
336-727-7204