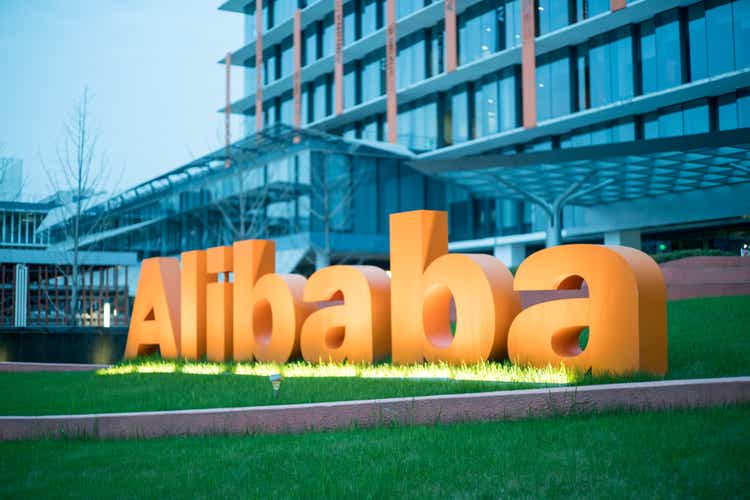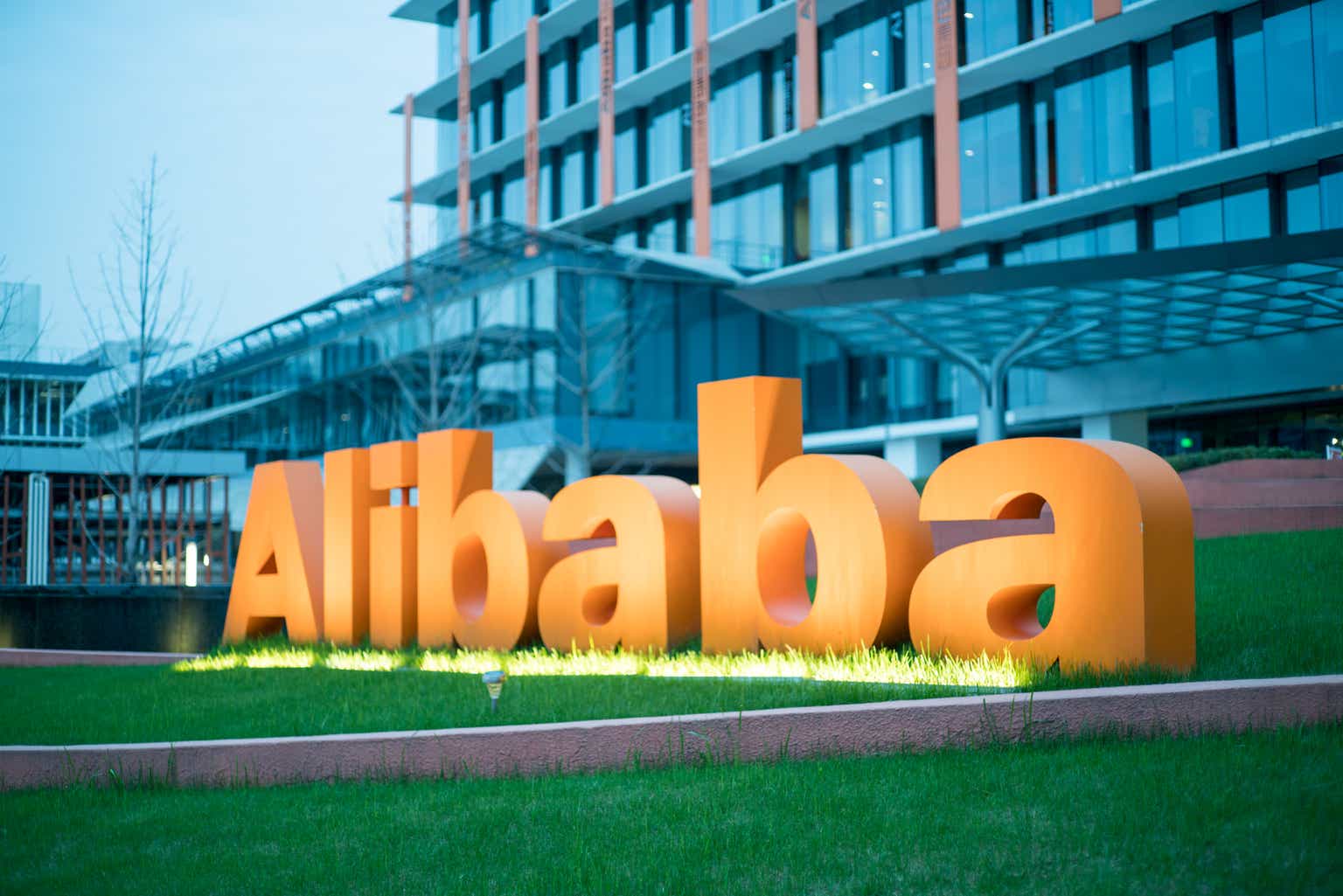 Alibaba (NYSE:BABA) is in a prime position to remain a dominant player in the cloud computing and the growing e-commerce markets in China. The market has punished the company's market valuation since its peak at $835 billion to its current market valuation at $304 billion. This significant valuation decrease has placed BABA in a very attractive position for a long-term investment opportunity.
In this article, I will take a broader look at BABA. Within this, I will review Cainiao logistics segment which has seen tremendous growth in revenues of 7-fold since FYE 2018. This business segment is not only boosting the company's revenues and net income, but it is also enhancing their ability to service customers globally. The company's investments in technology and logistics infrastructure have allowed them to improve delivery times and increase efficiency, resulting in a better customer experience.
I will also dive into BABA cloud computing segment which has seen its quarterly revenues increase to $2.9 billion. This segment has the potential to become one of the main sources of revenues and income for the company in the future, just as we have seen with other technology giants such as Amazon (AMZN), Google (GOOGL), and Microsoft (MSFT). BABA cloud computing services have been rapidly gaining market share in China, and with the increasing demand for cloud services globally, this segment is poised for strong growth in the future.
Finally, it is important to note that BABA continues to generate outstanding results, with TTM revenues of $120 billion, cash flow from operations of $21.7 billion, and free cash flow of $14.2 billion. These strong fundamentals, coupled with a significant runway of growth ahead, make me consider BABA a buy. Let's dive into BABA business ecosystem.
Business Overview
BABA is a Chinese e-commerce and cloud computing giant. The company operates the world's largest e-commerce ecosystem in China and abroad. BABA generates revenue through various business segments such as China and International commerce, which accounted for 77% of total sales during FYE2022. The core commerce segment includes retail and wholesale marketplaces, such as Tmall, Taobao, and 1688 platforms, which account for the majority of revenue. Other revenue segments include Alibaba Cloud, Cainiao Logistics services, etc. representing 23% of total sales. Alibaba Cloud and Cainiao have seen explosive growth during the previous years which is helping the company diversify its revenue streams.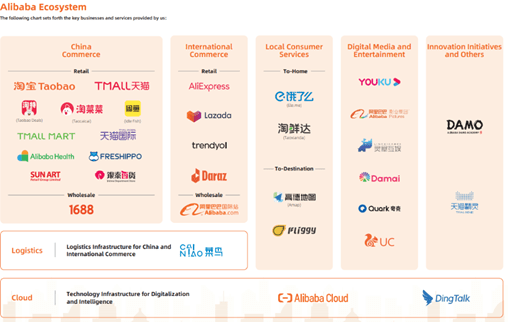 Financial Overview
In terms of financial performance, BABA had TTM revenues of $120 billion, cash flow from operations of $21.7 billion, and free cash flow of $14.2 billion. These numbers demonstrate the company's strong financial position and ability to generate cash flow. BABA also has a strong balance sheet, with $68 billion in cash and cash equivalents and a net cash position of $41 billion. This strong balance sheet provides the company with financial flexibility to invest in growth opportunities.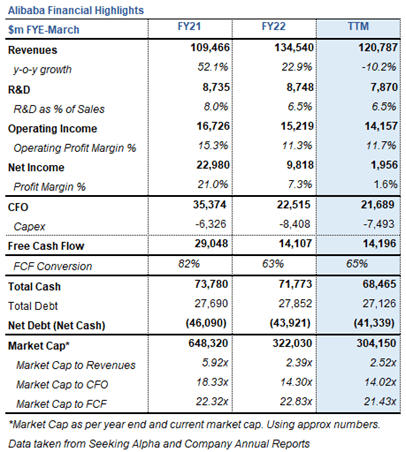 As previously stated, the majority of the company's revenues are generated through the Commerce segment, which includes China and International commerce, accounting for ~77% of total sales during FYE2022. This segment is primarily composed of retail and wholesale marketplaces, such as the Tmall, Taobao, and 1688 platforms, which contribute the lion's share of revenue. While this segment has historically been a significant contributor to the company's revenues, there is an inherent risk of over-reliance on this segment. This is why management has been actively diversifying revenue streams through the company's cloud and logistics businesses.
An increasingly important revenue segment for BABA is Cainiao, the company's logistics business segment. The Cainiao logistics segment is an important part of BABA overall business ecosystem, as it enables the company to provide efficient and reliable logistics services to its customers. Cainiao operates a network of warehouses and delivery stations across China, and it uses advanced technologies such as big data and artificial intelligence to optimize its logistics operations. As a result of these efforts and by integrating its technology and logistics capabilities, Cainiao has been able to increase revenues 7-fold since FYE 2018 at $1 billion to $6.8 billion in FYE 2022. This has helped BABA revenues and operating income as well as its capacity to better service customers all around the world. Important to note that Cainiao reported a profitable Adjusted EBITA during the latest quarter report.
The prospects for Cainiao are quite positive, as BABA has its eyes set on the growing Chinese e-commerce market as well as globally. The growth of e-commerce and the increasing demand for fast and reliable delivery services will possibly drive Cainiao's segment growth. Cainiao is well-positioned to benefit from this trend. However, Cainiao also faces some challenges. One of the main challenges is the intense competition in the logistics and transportation market in China. To maintain its competitive edge, management will need to continue investing in technology and logistics infrastructure to improve delivery times and increase efficiency.
When it comes to the cloud computing market, Alibaba Cloud competes with major market leaders including Amazon, Microsoft, Google, Tencent (OTCPK:TCEHY), Baidu (BIDU), etc. The previously mentioned US companies have seen their cloud computing businesses dramatically boost their top and bottom lines. For example, Amazon AWS latest quarterly revenue stood at $20.5 billion with an operating income margin of 26%. Similarly, Microsoft Intelligent cloud segment (Microsoft Azure) reported revenues of $20.3 billion with an operating income margin of 44%. This can give a sense of what Alibaba cloud segment could mean for the company in the future, especially because it will be able to take advantage of the growing Chinese and Asia Pacific cloud computing market.
Back to the financials, as per the latest quarter report, BABA holds the number one position in the Chinese cloud computing market with approx. 36% market share. Alibaba Cloud has been growing rapidly during the last years and has become a significant contributor to the company's revenue. As of the second quarter of FYE 2023, the segment accounted for 10% of total revenues. The table presented below displays the revenue growth for Alibaba Cloud, as evidenced by the FYE 2023 second quarter and prior periods. One can clearly see the substantial growth until this current year when revenue essentially remained constant compared to the same period last year. It is worth noting that Alibaba Cloud now has a positive Adjusted EBITA, this is an important achievement for the management team as for a number of years, this segment was unprofitable.
BABA is able to achieve these results in large part thanks to its heavy investments in research and development. BABA has a strong focus on research and development initiatives focused on improving its technology and capabilities in its e-commerce, cloud platforms, and logistics businesses. The company spends around $8 billion annually, on research and development initiatives. This includes hiring personnel, investing, and having some of the best data centers in the world that operate in multiple countries, as well as developing a special cloud operating system that gives them more power and storage options to help their business grow. BABA also created a new type of database that can handle a large amount of data in real-time and is using AI technology to improve the customer experience and make its business run more efficiently. All of these efforts and initiatives will help the company stay competitive in the market and continue to improve their services.
Shareholder Returns
At the end of 2022, the company's management announced an increase in the share buyback program to $40 billion in order to return value to shareholders. The company's strong financial position and ability to generate a robust free cash flow make it well-suited to return value to shareholders through share buybacks.
As seen above, the increases in the share buyback program have been sizable. BABA is able to do this thanks to its robust TTM free cash flow of $14.2 billion coupled with its strong balance sheet which is bolstered by its cash position of $68 billion. This gives BABA enough fire power to pursue share buybacks as well as growth opportunities.
Management has already started upsizing the spend on share buybacks during the last twelve months spending about $8.6 billion. As of November 2022, $27 billion remain available under the current $40 billion program. We can expect management to continue repurchasing shares as BABA share price is still well below its price peak.

Growth Opportunities
It is not surprise that one key area for growth for BABA is the global cloud computing market, which is set to reach $1.2 trillion by 2027 and within China to $84 billion by 2026. The company is well-positioned to take advantage of this growing market through its Alibaba Cloud segment. As more businesses shift to cloud-based services, the demand for cloud computing is expected to continue to grow, providing a significant growth opportunity.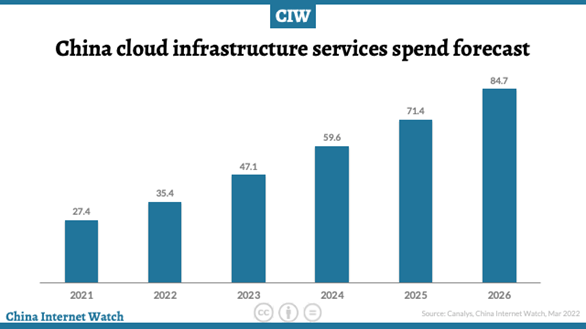 Another key area for growth is the Chinese e-commerce market, which is projected to reach $3 trillion by 2024. As a leading player in the Chinese e-commerce market, BABA is well-positioned to capitalize on this growth. The company's Tmall and Taobao platforms are already dominant players in the market, and management continues investing in these platforms to improve the customer experience and drive sales.
Valuation
BABA has suffered a steep decline in market valuation during the last two years, with headwinds coming from different directions. The biggest of them all, Chinese Regulators which has punished the company through fines, blocked IPO, etc. These events have impacted investor sentiment and have made investors wary about the prospects of the company. As such, BABA market valuation has experienced a decline of over 60% from its peak very close to $835 billion to its current market valuation of $304 billion. Looking at BABA's cash flow to price being slightly above 14 times and sales at 2.5x, it presents an attractive opportunity as the company still has the potential to keep growing.
For the valuation of the company, I have used the market multiple method, using future forecasted cash flow from operations to a 20x multiple. I am using this method because the company is expected to continue repurchasing shares from the open market in the coming years. As mentioned above, management still has the $27 billion to spend on share buybacks. For reference with the current market capitalization, management could redeem close to 9% of the shares outstanding. The ongoing share buyback activity is expected to have a significant impact on EPS.
Further to this, due to BABA equity investments in other companies and due to accounting rules, the earnings are somewhat polluted due to the volatility in market prices of publicly-traded companies.
I have obtained the analysts' revenues forecast from Seeking Alpha data and have applied operating cash flow margin of 20%, which is below the average of the previous 3 years at 28.1%. Given these assumptions, I have applied a reasonable multiple of 20x. Using this method, I have arrived at a market valuation for BABA of $720 billion by FYE 2027.
Risks
Increased competition from domestic and international e-commerce companies: Alibaba faces competition from a number of large domestic and international e-commerce companies, such as JD.com (OTCPK:JDCMF) and Pinduoduo (PDD) in China and AMZN abroad. These companies are well established and are investing heavily in technology and logistics, which could potentially eat into BABA market share.
Changes in government regulations and policies: BABA operates in a heavily regulated industries and fines by the Chinese regulators have already been felt by the company. This could have a negative impact on its financial performance.
Failure to successfully expand into international markets: Despite its success in China, BABA has struggled to expand its e-commerce business into international markets, particularly in the US and Europe. Failure to establish a foothold in these markets could restrict the company's revenue growth potential in the long term. Nonetheless, BABA is continuing its push with brand names such as AliExpress, Lazada and Daraz.
Bottom Line
BABA is the leading e-commerce and cloud computing company in China. The company has a strong financial position, with enough cash to fund investments in R&D and operations as well as return value to shareholders through share buybacks. Overall, BABA's strong financial position, dominant market position in e-commerce, and growing cloud computing business position it well to take advantage of the growth opportunities in these markets.
Editor's Note: This article discusses one or more securities that do not trade on a major U.S. exchange. Please be aware of the risks associated with these stocks.