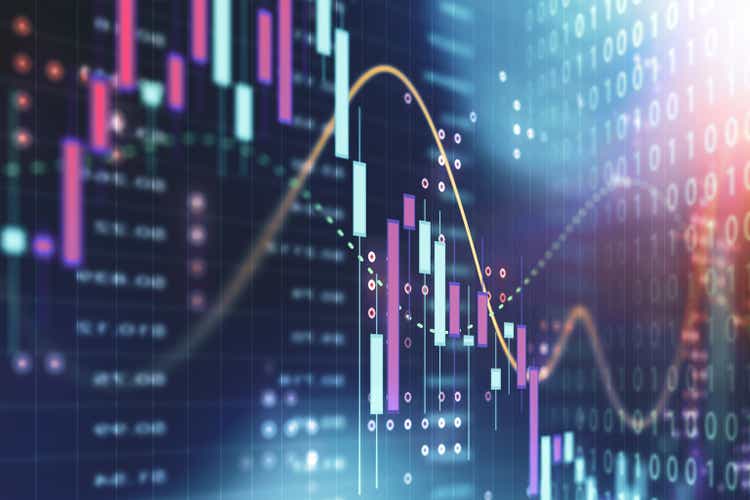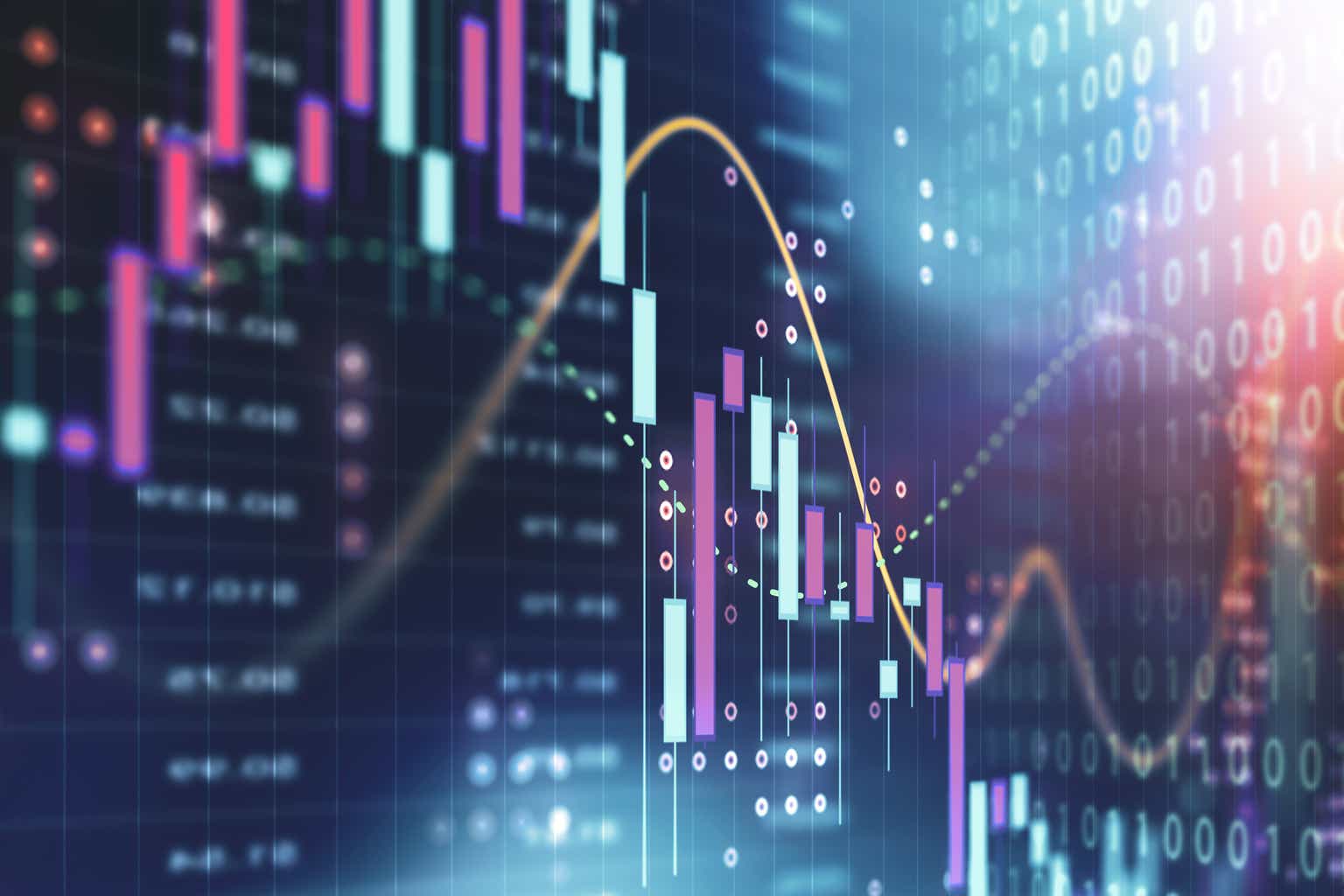 Written by Nick Ackerman, co-produced by Stanford Chemist. This article was originally published to members of the CEF/ETF Income Laboratory on January 3rd, 2023.
I've recently become a shareholder of Eaton Vance Tax-Managed Buy-Write Opportunities Fund (NYSE:ETV) again. After several years of Eaton Vance Tax-Managed Buy-Write Strategy Fund (EXD) being the much better valuation, a distribution cut turned the tables. When ETV cut, and EXD held steady, ETV's premium dropped below EXD's.
As of today, the valuation difference isn't significant. EXD had come down to meet with ETV's new, lower premium.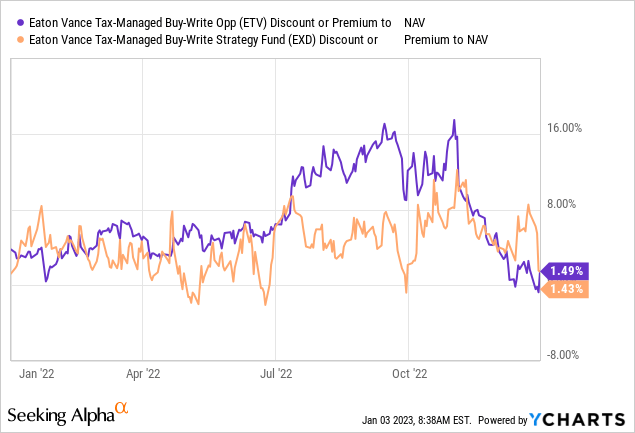 This makes sense, too. EXD is set to be merged into ETV, meaning that shareholders of EXD are eventually to realize whatever valuation ETV is trading at when they become shareholders of that fund. These two should track each other very closely until it is completed in the first half of 2023. While it isn't 100% guaranteed to pass, as EXD shareholders have to vote, these sorts of mergers often get approved. These funds carry the same investment policy, and the majority of each portfolio overlaps.
Since our last coverage of ETV earlier in the summer of 2022, shares have fallen even further. However, some of this is simply the premium coming down from a higher level to a lower level. That means it isn't actual underlying portfolio underperformance. Over the last year, being quite volatile, we saw that ETV had performed relatively well.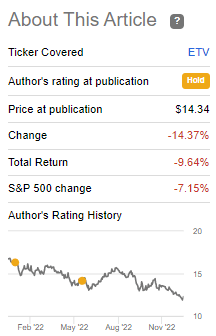 The Basics
1-Year Z-score: -1.30
Premium: 1.49%
Distribution Yield: 9.27%
Expense Ratio: 1.08%
Leverage: N/A
Managed Assets: $1.4 billion
Structure: Perpetual
ETV's investment objective is to "provide current income and gains, with a secondary objective of capital appreciation." To achieve this, the fund will invest "in a diversified portfolio of common stocks and writes call options on one or more U.S. indices on a substantial portion of the value of its common stock portfolio to seek to generate current earnings from the option premium."
The size of the fund makes this one of the largest Eaton Vance option writing funds available. This can be important due to liquidity concerns. The average daily trading volume for ETV comes to nearly 276k. For a CEF, that's generally more than enough. EXD is quite small, with only around $89 million in assets, so that won't add a meaningful amount to ETV.
The fund's expense ratio is also lower for a CEF. Lower expense ratios are another positive of the Eaton Vance lineup of funds, making them more attractive. We also don't have to worry about any leverage at the fund level with this name. That can be another benefit in this volatile market environment we've been going through.
Performance – Premium Edges Lower
Below is the total share price and total NAV return of ETV relative to the SPDR S&P 500 ETF (SPY) and Invesco QQQ Trust (QQQ). This fund has a benchmark of both the S&P 500 and the Nasdaq 100, which gives it the added tech lean. That was certainly not the place to be in 2022. However, the performance of ETV relative to both these indexes represented by the ETFs was fairly strong.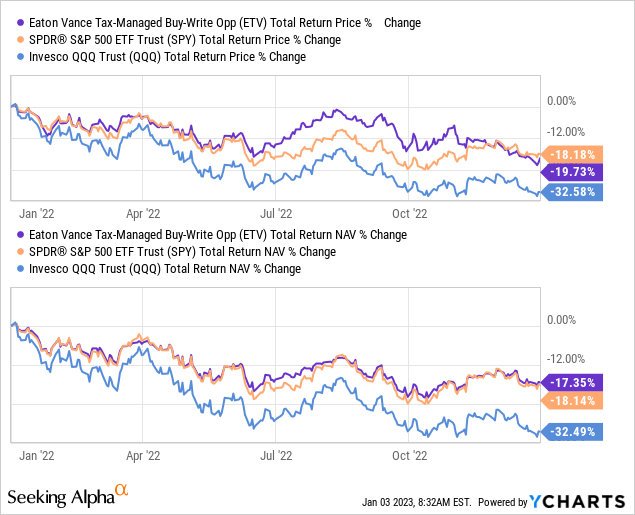 It is true that on a total NAV return basis, ETV essentially came in line with SPY. Given the added tech weighting of the fund, one could have normally expected the performance to fall somewhere in the middle. I believe that's where we see the added benefit of the fund's call-writing strategy, helping to hold the fund up. They also hold strong weightings to the mega-cap tech names that held up relatively stronger.
At the same time, the fund's total share price has underperformed relative to the NAV. That means we get a better valuation on the fund. The fund generally trades at a premium, at least over the last seven years. However, the latest spike in the premium through most of 2022 was uncharacteristic of the fund. At the current level, we are slightly below the long-term average premium.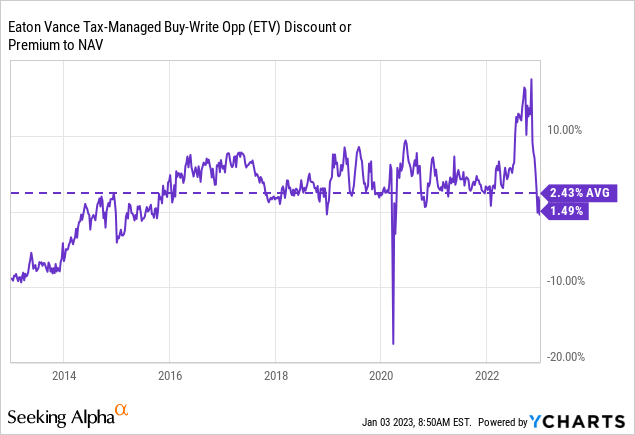 Thanks to a strong bull market over most of the previous years, we see that ETV has delivered some fairly strong results on an annualized basis.

Distribution – Cut Creates An Opportunity
The fund previously only had two cuts in its history. That was around 2009 and 2010. Around 2012, the fund switched from quarterly to monthly distribution. During that transition, the fund paid the equivalent amount, so there was no cut there.
The latest distribution had been in place for a considerable period. At least considerable for a closed-end fund. CEFs can't retain earnings like a corporate, as they pay out almost all of their income and capital gains. Therefore, whenever there is a market pullback, the chances of a distribution cut become elevated. This is particularly true for equity-focused CEFs such as ETV.
That can make the latest cut several months ago feel even worse and send the shares lower. Which then creates the opportunity for investors to switch over from another fund or initiate a position. The fund is still at a slight premium, so it isn't necessarily a screaming deal – but it is certainly more attractive than it had been.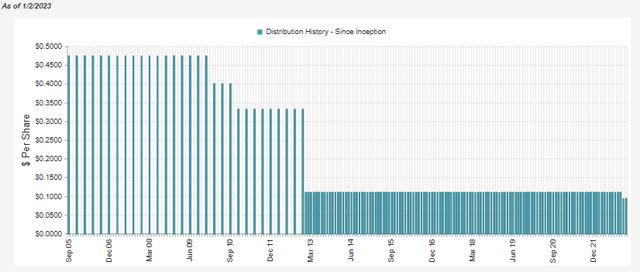 Equity funds will require capital gains to fund their distributions. In their latest semi-annual report, we can see that net investment income was very low. This is generally the case with funds that focus heavily on tech names.
However, we can see that their realized gains were actually fairly high at $82.9 million. In fact, combining the NII and realized gains in the year's first half, the distribution was technically 'covered.' Albeit, the unrealized losses soared.
It would seemingly be that sizeable unrealized depreciation on the underlying portfolio that would have brought assets down and raised the NAV distribution rate. Thus, what prompted the distribution cut for the fund (and most of the EV equity funds.)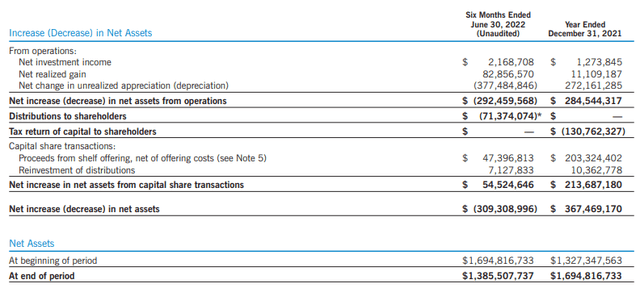 If you recall, the first half of 2022, which is being represented here, wasn't strong. The entire 2022 year ended up being quite the struggle. So some might be interested to see where they could realize those capital gains. This can actually be done in several ways.
The first could be that the fund is selling older positions that they've held for years, and they've finally capitalized on those appreciated assets that it had embedded in its portfolio.
Similarly, just because one stock goes down doesn't mean they all do. I'm sure, as investors, you had some winners in 2022. At least if you run a diversified portfolio.
That means ABC's stock price could rise from $50 to $60, while XYZ's could fall from $50 to $30. They could sell ABC and realize a gain if they were two equally weighted positions. At the same time, between these two positions, the overall portfolio would still fall due to XYZ falling relatively further. It would simply go to the unrealized portion of the portfolio.
Then finally, the main benefit of ETV is going back to their index option writing strategy. During a down year, most of these contracts will expire worthless. That means they are able to collect the entire premium, translating into realized capital gains from the fund.
That's precisely what we see for ETV. In the first half of 2022, ETV generated a massive $111.4 million in realized gains provided directly from their written options.

ETV's Portfolio
With a portfolio turnover rate in the single digits over the last five years, there aren't a lot of frequent changes with this fund. In the last semi-annual report, it came to 5%; if we annualized that, it would actually be the highest turnover in the last six years.
The active part of their strategy is more focused on index option writing. They write short-dated calls on nearly 100% of their portfolio. In the last fact sheet, it was 95% of the notional value of their portfolio, with an average of 16 days to expiration.
In total, they carry 196 positions. However, the bulk of that is weighted towards the top ten holdings. Within that, a large portion of that is allocated to the top few holdings. Data through the end of September 30th, 2022, as reported in their fact sheet.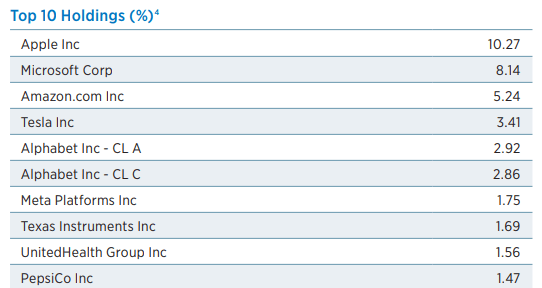 The largest position is Apple (AAPL), with a double-digit weighting. We then have Microsoft (MSFT) and Amazon (AMZN).
Interestingly, Tesla (TSLA) is still in a sizeable position, which is hard to imagine after the massive drop in 2022. This is likely a much smaller position now because most of the drop came in the final months for TSLA. That's when the losses accelerated for the year.
We then have both classes of Alphabet (GOOG) and (GOOGL). Combing that, we have a weighting of 5.78%. That would be enough to put the company as the third largest weighting.
From there, we have Meta Platforms (META), a high flyer similar to TSLA, which took a big hit in 2022. Although, if we are being honest, it isn't as though the other names had any spectacular performances. All declined, but some just declined less.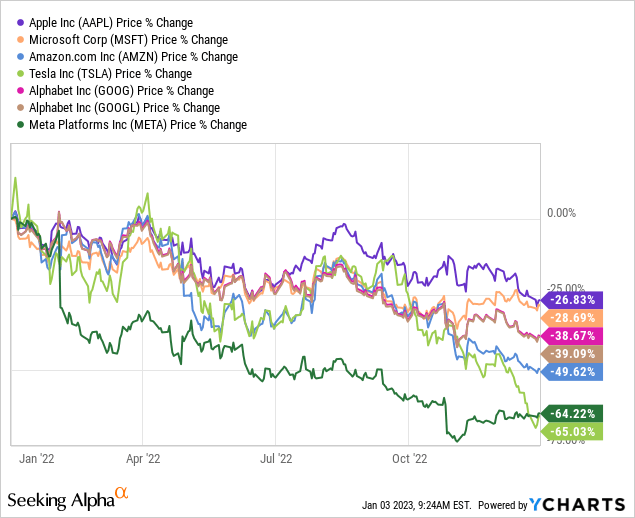 Of the top ten, that then leaves us with Texas Instruments (TXN), UnitedHealth Group (UNH) and Pepsico (PEP). TXN isn't a popular name in the tech space, but it has held up relatively well in the last year against the mega-cap tech names. UNH and PEP, as defensive names, held up and delivered positive results.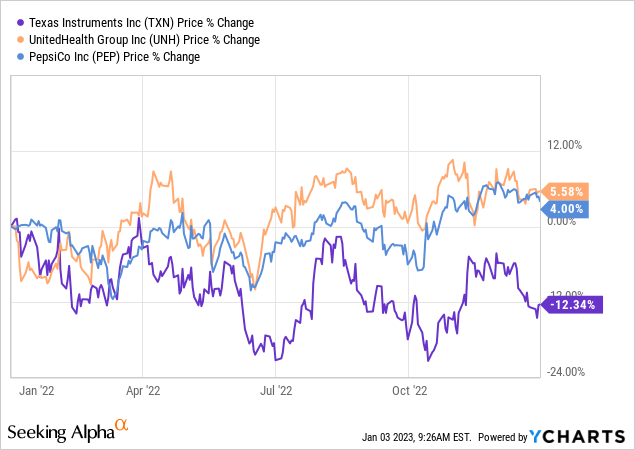 Conclusion
ETV is back down to its historical trading level in terms of its premium. We might see a discount open up as it has flirted with more recently. I think that for longer-term investors, ETV could be fine to pick up at current levels. Given the options writing strategy they implement, results can come out better in a more volatile or slightly declining market.
Some investors believe that we will see almost no return for years or even a decade. We can see that ETV can pump some serious dollars in terms of their written options producing capital gains. While volatility would presumably eventually become reduced, reducing option premiums, it is still a viable strategy to generate capital gains in a flat market.
For more patient investors, waiting for a discount could be worthwhile. It is certainly possible in this environment if volatility remains elevated. The sting of a distribution cut is still fairly fresh, which could further pressure the fund in the short term.
Editor's Note: This article covers one or more microcap stocks. Please be aware of the risks associated with these stocks.