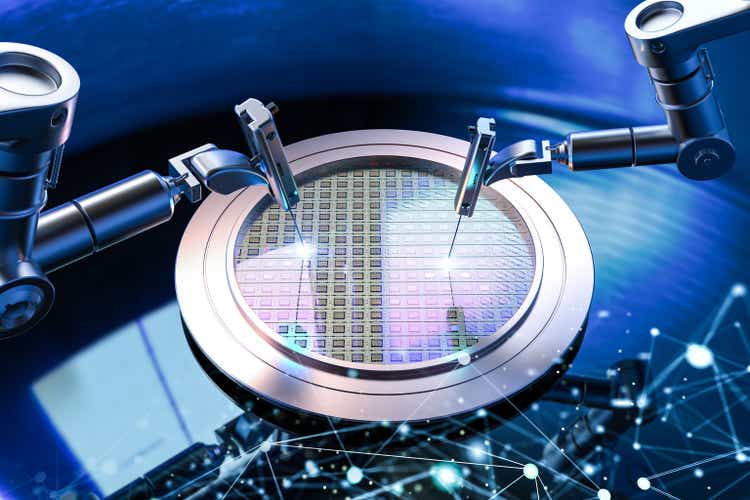 Thesis
KLA Corporation (NASDAQ:KLAC) has managed exceptional revenue growth and is executing well in a tough environment. This operational success has translated well to financial success, and KLA has implemented a robust capital return plan. KLAC is less impacted by the export restrictions regarding China than some other U.S. based semiconductor equipment companies. For these reasons, we view KLA as a buy.
Strong Execution
KLA is a supplier of process control and yield management equipment and services. Their equipment is used in the manufacturing of semiconductors, and they sell primarily to semiconductor fabs. Despite the rough patch the semiconductor industry is currently in, KLA managed to grow revenues by 31% in their most recently reported quarter. Even more impressive is their 10% sequential revenue growth.
Further, breaking down revenue shows that their patterning segment showed a healthy 67% growth year over year and a blistering 49% growth quarter over quarter. This segment is currently the primary driver of KLA's sequential growth and should be monitored by investors.
Earnings Growth and Capital Returns
Their 31% growth in revenue was accompanied by a 39.62% increase in operating income. This growth in operating income has enabled the company to continue rewarding shareholders with buybacks and dividends.
KLA has a robust capital return plan and has been consistently paying out a high portion of their earnings to shareholders, as is shown by their 92% FCF conversion rate.
Strong Balance Sheet
KLA sports a strong balance sheet, with nearly $3 billion in cash and a weighted average debt maturity of nearly 20 years. Their overall debt load isn't very large to begin with. This means that the company can continue to return more cash to shareholders without needing to worry about making large debt repayments in the future. The construction of their debt load also gives them more operational flexibility in case they need to make a significant change to their business model.
China Exposure
The U.S. recently announced new export controls that limit China's access to semiconductors and semiconductor manufacturing equipment. This has had an adverse impact on the results/guidance of many semiconductor companies. KLA's biggest U.S. based semiconductor equipment competitors have guided for an impact of:
Applied Materials (AMAT): Up to $1.1 billion
Lam Research (LRCX): $2.5 billion
KLA themselves are guiding for up to a $900 million adverse impact to revenue in 2023. While this isn't great, it could be a lot worse and shows that for now the impact of restrictions on China is minimal when it comes to KLA's revenue. Investors will need to monitor geopolitical developments and how they will impact KLA going forward, as an increase in tensions with China is a major risk to the bull case for the company.
Primary Growth Drivers
So KLA has been executing well, but what factors will fuel their growth in the coming years and decade to come? The key to answering this question lies in the type of equipment that KLA specializes in. KLA focuses on building equipment related to process and yield control. This equipment is responsible for ensuring that the fabrication process going smoothly and there are no defects on the wafers. This results in higher "yields" (viable product) and increases the profitability of the semiconductor manufacturer. As the semiconductor fabrication process becomes more complicated each development cycle, there is a greater need for process and yield control solutions, which KLA provides.
Another growth driver is the desire to geographically redistribute semiconductor manufacturing capacity for reasons related to national security and supply chain resilience. Major semiconductor fabricators such as Intel (INTC), Taiwan Semiconductor Manufacturing Company (TSM), Micron (MU), and Samsung Electronics (OTCPK:SSNLF) have all announced ongoing capex programs designed to increase their total production capacity and update old facilities. This all requires new equipment to accomplish, and KLA is seated at the center of this capacity buildout and retooling effort.
The coming decade appears to bode well for KLA and investors will need to monitor the capex plans of major semiconductor manufacturers to gauge how KLA's revenue growth will develop moving forward.
Price Action
KLA's stock held up relatively well in 2022 and has a good track record of growth. Despite the stock trading near all-time highs, we view the valuation as being attractive here.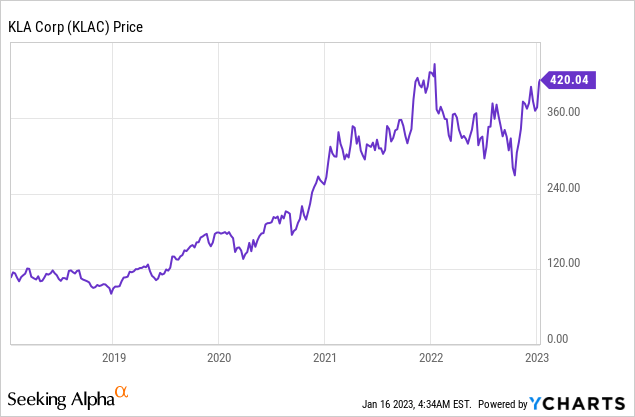 Valuation
KLA is trading around its long-term forward P/E multiple. We believe that this is a good time to buy KLA as they have shown their ability to execute and return cash to shareholders. Buying shares in an above average company when that company is trading near a market multiple is often a good opportunity to do so.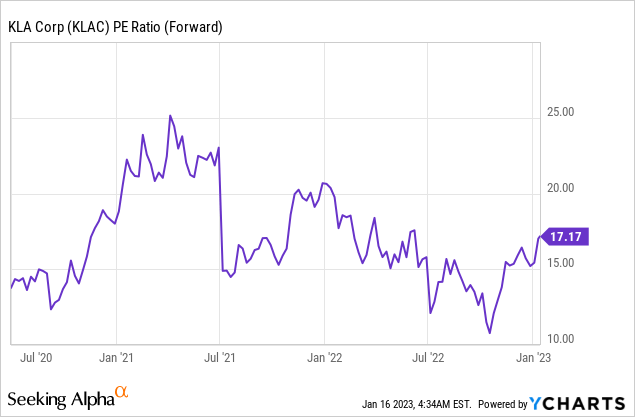 Risks
Some key risks to this bullish thesis are:
KLA could get outcompeted in their key end markets.
Geopolitical tensions could increase further and adversely impact KLA's revenue.
Macroeconomic factors could cause KLA's customers to decrease capex.
The semiconductor industry could stay in a down cycle for longer than anticipated.
The semiconductor industry could grow at a slower pace over the coming decade than expected.
New technological developments could make KLA's equipment less important.
Altogether, we view the risk/reward as being favorable here and believe that now is a good opportunity for long-term investors to buy shares.
Key Takeaway
KLA Corporation has been performing well and has a strong balance sheet and robust capital return plan in place. While there is considerable risk to the bull thesis, we believe the risk/reward is attractive here and that now is a good time for long-term investors to buy shares as long as they understand the risks involved with an investment in the semiconductor industry.