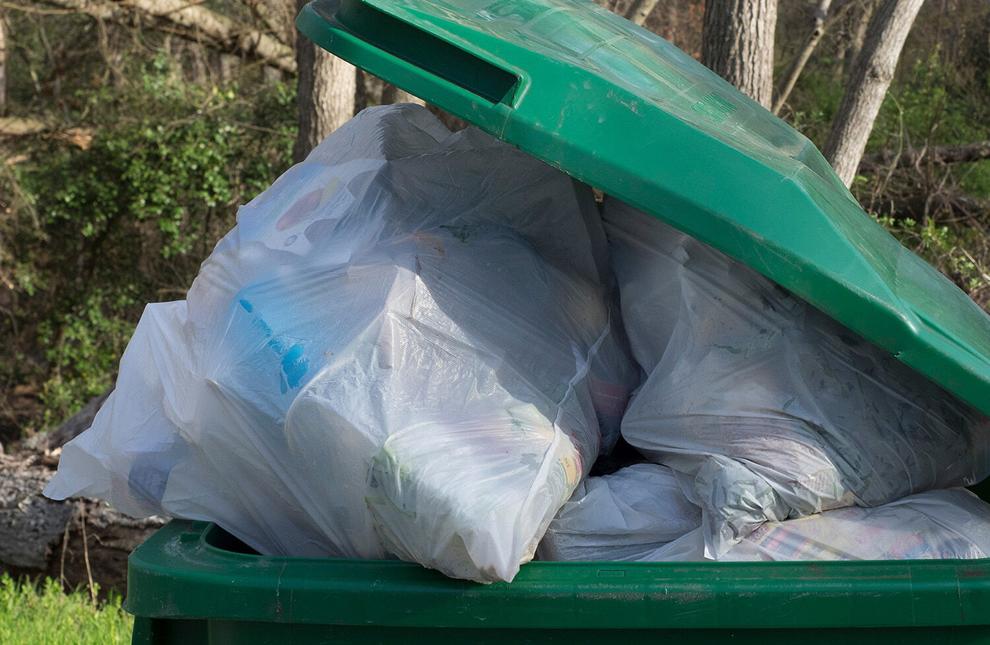 A growing number of states are passing laws that require producers of plastics to fund or participate in recycling them. Could one of the Chesapeake Bay states be next?
A policy report from the Chesapeake Bay Commission and Chesapeake Legal Alliance released in November explores the potential.
The concept is called "extended producer responsibility," and it shifts the burden for recycling or disposing of certain materials back to companies that produce them. Such measures can also encourage producers "to introduce fewer [plastic] products and more recyclable materials into the market to begin with," the report states.
The report and many of the laws in other states focus on plastic packing materials, which represents 40% of all plastic waste globally.
Maine, Oregon, Colorado and California have each passed extended producer responsibility laws over the past two years. Maine was the first, in 2021. And as of October 2022, nearly 20 states — including Pennsylvania, Maryland and Virginia — had considered similar legislation. The details
of the laws and the bills vary widely between states.
According to the report, the most successful laws cater to a state's specific needs by considering the industries that will be impacted and the state's existing recycling infrastructure and economics. Still, the report found that state-based legislation layered with a regional approach could make the recycling process easier on both producers and consumers. 
Pollution-reduction efforts for the Bay and its rivers have historically focused on nutrients and sediment. But plastic pollution has become an intractable, widespread problem in waterways. Nearly every survey looking for plastics in aquatic systems has found them. Researchers are just beginning to understand what the presence of plastics throughout the natural environment means for local wildlife and their habitats.
"The impacts of plastics are being felt in our waters, in our wildlife and on our land," stated Virginia Del. David Bulova (D-Fairfax), a member of the Chesapeake Bay Commission, in a press release about the report, "but the Chesapeake may be even more vulnerable to plastics pollution than many other watersheds."
A 2021 study found that because of the Bay's unique shape and flow, it's likely serving as a "sink" for plastic pollution in the region. An estimated 94% of the plastics that enter the Bay and its waters do not leave the watershed. A committee of researchers convened by the state-federal Chesapeake Bay Program in 2019 to look further into the problem concluded that plastics pose a serious potential risk and launched a series of research projects and oversight measures.
Meanwhile, the United States alone creates more than 35 million pounds of plastic waste per year — and less than 10% of it is recycled, according to the U.S. Environmental Protection Agency. The largest recent influence on recycling trends was a decision by China in 2018 to severely limit the import of plastic waste from other countries. Without this option, many states and localities have struggled to fund costly domestic recycling programs.
"Suddenly, we've been forced to deal with [recyclables] in our own communities.
And how to do that effectively and economically has forced this conversation forward," said Molly Brown, a senior attorney for the Chesapeake Legal Alliance and an author of the policy report.
Much of the plastic pollution laws in the Bay watershed have been piecemeal, focused on a city or county banning materials, such as polystyrene food containers and plastic straws, which commonly end up in the water. "But a comprehensive approach to plastics waste has yet to be successful," the report states.
In Maine, producers pay into a program based on the amount and recycling potential of their products. Those funds are used to reimburse local governments for the costs of recycling. In Oregon, the program funds improvements to the state's recycling system. But in Colorado, legislation passed in 2022 establishes a statewide program that's fully funded and managed by producers.
Kate Bailey, chief policy officer of The Association of Plastic Recyclers and a lead author of the Colorado law, said the program represents "a fundamental shift around how we think about recycling and why we do it."
"The goal of recycling isn't to keep packaging out of landfills," Bailey wrote in an email. "The goal of recycling is to create a circular economy where companies make new products from our old stuff."
The fees in Colorado apply to all companies that sell products in the state, regardless of where they're made. This prevents companies that are based in Colorado from having a competitive disadvantage against those based elsewhere.
"Holding the producers of plastic packaging accountable for its end-of-life management is an increasingly popular policy globally," said Maryland Del. Sara Love (D-Montgomery), who also serves on the Bay Commission, in a press release. "A regional program, such as one focused on the Chesapeake Bay, would offer producers stable and uniform requirements, costs and expectations."
In Maryland, bills for extended producer responsibility were introduced during the 2021 and 2022 legislative sessions but did not make it out of committee. The legislation would have required producers of certain packaging materials to pay into a program to reduce waste and begin contributing to the cost of recycling for localities. The bills gained the support of industry, including the Consumer Brands Association and the Flexible Packaging Association.
Pennsylvania considered a bill in 2021 that would make manufacturers responsible for the collection, transportation and recycling of single or short-term use packaging materials. The bill proposed a fee but did not make it out of committee.
In Virginia, a 2022 bill would have established and funded a program to reimburse local governments for recycling costs by requiring larger producers to pay an annual fee based on weight, volume and recyclability of materials. That bill, which stalled in a subcommittee, faced pushback from forest products businesses that argued paper products were already being effectively recycled in the state. Virginia leaders did form a Plastic Waste Prevention Advisory Council that will study and advise the governor on plastic waste reduction policies.