THE TRIGGER for India's top wrestlers to stage an unprecedented protest against the sport's administrators was a series of phone calls that two-time world championship medallist Vinesh Phogat received from several young women expressing fears about the "unsafe environment" at a national camp they were asked to attend in Lucknow, The Indian Express has learnt.
It was after the young wrestlers told her about their plan to boycott the camp — and even quit the sport — that Vinesh decided to go public Wednesday with allegations of sexual harassment against Wrestling Federation of India (WFI) president and BJP MP Brij Bhushan Sharan Singh, and other national coaches.
The Lucknow camp, which was to begin Wednesday and for which the women wrestlers were called earlier this month, was cancelled by the Sports Ministry. The protest, which marked its second day at Jantar Mantar in the national capital, has received wide-spread support so far.
Late Thursday, Sports Minister Anurag Thakur met the wrestlers even as Indian Olympic Association (IOA) president and former sprint star PT Usha requested them to "come forward and voice their concerns" with the association. "We will ensure complete investigation to ensure justice," Usha posted on Twitter.
The WFI, meanwhile, decided to hold an emergency general council meeting in Ayodhya Sunday to discuss the allegations, according to the federation's assistant secretary Vinod Tomar.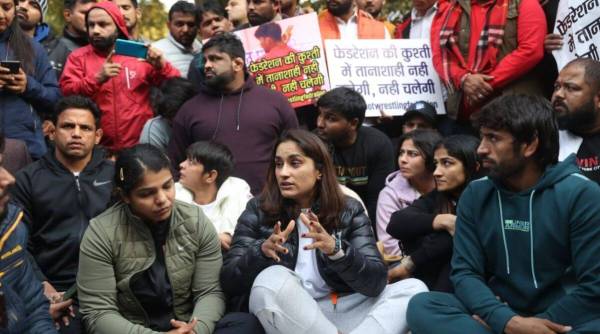 Wrestlers Bajrang Punia, Vinesh Phogat and Sakshi Malik sit on a dharna against the Wrestling Federation of India in New Delhi on Wednesday. (Express photo by Praveen Khanna)
Earlier in the day, the sit-in protest venue was packed after international wrestlers and dangal pehelwans from Haryana, UP and Rajasthan, along with farmer leader Narendra Tau, gathered after Olympics bronze medallist Bajrang Punia sought support on Instagram the previous night.
Speaking to The Indian Express, a core member of protest group said, "After those calls (from the women wrestlers), Vinesh and Olympic medallists Sakshi Malik and Bajrang had a chat among themselves and decided that Brij Bhushan and the coaches involved in sexual harassment over the years have to be called out. Other elite wrestlers Anshu Malik and Sonam Malik (both of whom were part of the Tokyo Olympics contingent) also came on board."
It is learnt that the women wrestlers also told Vinesh of similar incidents in the past, and she decided that "enough was enough" when appeals to change the camp venue fell on deaf ears.
On Day 2 of the sit-in, Vinesh was constantly contacted over phone by women wrestlers who wanted to talk about the harassment they had faced allegedly "because of the WFI president", sources said.
Speaking to reporters, Vinesh said, "Yesterday (Wednesday), there were two to three girls who were ready to talk about sexual harassment with proof. Today, I can say that there are five to six wrestlers who are ready to talk and come out with proof about sexual harassment. I even got calls from women wrestlers in Kerala. Those from Maharashtra are also saying that they have had similar bad experiences."
Vinesh, who along with Bajrang and others from the protest group met Sports Ministry officials, said the wrestlers will not leave the venue until the WFI president is sacked. "It will be sad for wrestling if girls have to come out and give their names and provide proof about harassment. Don't force us to do that," Vinesh said, adding that if there was no satisfactory response, they will file an FIR against Singh.
On Thursday, among those who joined the protest stage was Vinesh's uncle Mahavir Phogat, father and coach of the sisters Babita and Sangeeta, and the inspiration behind Aamir Khan's Bollywood hit "Dangal".
Mahavir's daughter and BJP leader Babita, too, visited the venue with a message from the Government. "I have assured them that the Government is with them. I will try to ensure that their issues are resolved today," Babita said. Bajrang, incidentally, is married to Sangeeta.
On Wednesday, the Sports Ministry had given WFI chief Singh and the federation 72 hours to submit an explanation, failing which action would be initiated according to provisions of the National Sports Development Code.
Bajrang's long-time roommate at camps and international wrestler Jitender stressed the importance of collective might. "When we first spoke about the idea of a protest, the first discussion was about staying united because we are fighting against very powerful people. Today, hundreds of wrestlers have joined us," the Asian Championship silver medallist said.
"Once the WFI president said the majority of wrestlers were not supporting the protests, Bajrang posted a video on social media last evening asking all wrestlers to join. You can see the huge turnout today," he said.
Bajrang said the initial plan was to have only a close circle of wrestlers at the protest. "The president said yesterday that only 3 per cent of wrestlers were with us. Today, look around, wrestlers from all wrestling hubs of India are here," he said.
Apart from Bajrang's Instagram post, a video appeal was also posted online by Tokyo Olympics silver medallist Ravi Dahiya. Dahiya belongs to the capital's biggest wrestling hub at Chhatrasal Stadium that was made famous by India's most-decorated wrestler Sushil Kumar who is currently in jail for involvement in a murder case.
At the protest site, Rakesh Yadav, a wrestler from Baghpat, said he and a dozen wrestlers travelled to Jantar Mantar after Bajrang's video calling for support. Another wrestler from Baghpat, Sandeep Tomar, a former Asian Championship medalist, were among the speakers at the protest Thursday.
Even coaches who were part of the system till recently came to meet the wrestlers. Kuldeep Malik, a former chief coach of the women's team, said he decided to stand in solidarity with the wrestlers after seeing Vinesh's plea on television. "Maybe the girls were scared to speak up earlier. When I was coach I never received any complaints. But there needs to be a thorough inquiry into what happened," Malik, who was chief coach from 2013 to 2021, said.
As the numbers swelled at the protest site, politicians, farm leaders and activists made a beeline to the stage. Former CPI(M) MP Brinda Karat was among them but she stepped aside after wrestlers announced that they didn't want to politicise the protest.
Meanwhile, WFI chief Singh's official residence on Ashoka Road, not far from the protest site, had a police presence. Visitors were not allowed even to the WFI office housed within the bungalow. A protesting wrestler, who was waiting outside, said, "We worship Lord Hanuman and remember, he burned down Ravan's Lanka. A similar fate awaits wrestling's bahubali (strongman)."