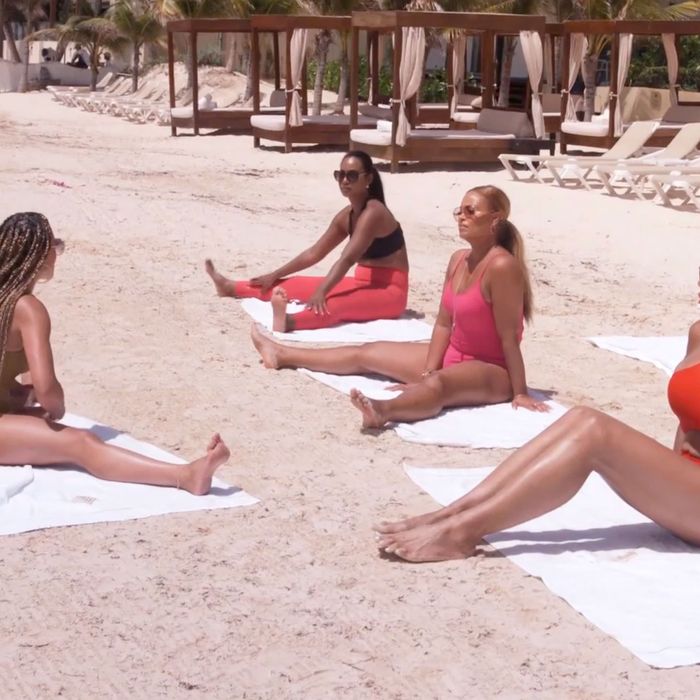 Photo: Vulture; Photo: Bravo
Making quality reality television is a careful exercise in mythmaking, sensation, and selling the bit. In other words, reality has very little to do with it, other than ensuring that the working cast seems as fully realized as possible within the flourishes that make their personas sing on TV. When Lisa Rinna (ding dong, the witch is dead… for now, at least) first arrived to RHOBH, soap fanatics who grew up watching Days of Our Lives knew good and well that her peak years in the role were in the '90s, but that didn't stop her from being proclaimed a soap star. Kyle Richards had bit roles in '70s and '80s horror and adventure films (and that one run on Little House on the Prairie), but that won't stop her from calling herself a child actress, despite her sister Kim being the one who bankrolled the family. Claudia Jordan was in a few music videos in the video-vixen heyday, but she stood ten toes down on calling herself a model on RHOA. Kim Fields was extremely accomplished and got no respect for it whatsoever because it didn't translate into persona. Your true background is fairly irrelevant as long as you are able to craft a version of yourself that feels entertaining, relatable, and worthy of championing. As with professional wrestling, Bravo fans are willing to buy into the illusion, so long as you commit and perform well.
This is a long-understood trope, but there are the some fans who go overboard and take characters' behavior personally, and because Bravo has fully capitalized on the cottage industry of white women creating podcasts and leaned into becoming True Crime central, indictments and all, the thin membrane between fantasy and reality is often blurred. But the performance at BravoCon, booing it all, is high theater reminiscent of a wrestling heel. Most of the casts don't hang out with each other in the offseason, and even if they once did, the second salary negotiations get involved, a lot of those bonds get frayed and play out in the subtext of the season's ongoing storylines. People get resentful that one coworker can hold out for weeks for max money and then stroll in and collect their coins, and instead of confronting Andy about it on Watch What Happens Live, strategic alliances for how to punish that cast member rear their head.
That is the larger thrust of this ongoing feud between Robyn, Gizelle, and Karen, which has been dragging on since season two. It is incomprehensible to them that Karen commands such high regard among the fans and the network. Remember, they drove in disguise to see if she lived in the house in Great Falls while pretending to deliver pizza; pestered her about her tax issues; and have  dogged her about cheating allegations. I think it's obvious to anyone with eyes that Karen and Ray have an arrangement; he is an old man who just wants to plant his garden and go take naps, and that is perfectly fine if it works for them. The duo's insistence, however, that the audience doesn't see her campy behavior for what it is, is quite delusional and extremely insulting to the viewers. We know that Karen is phony and superficial; we just don't care because it works. This is why she is the first of the Potomac Housewives to be impersonated on Drag Race season-favorite Snatch Game
Does it matter to me that Karen is sitting with a straight face looking at Ashley and insisting that Juan's alleged woman on the side looks just like her, while her eyelashes and wig are doing the cha-cha slide down her face? No, I actually find it quite hilarious. I also know that those infidelity rumors have persisted for quite some time, and Robyn, who is making a platform out of authenticity allegations, has chosen to be cagey about the timeline of their way back together, while the Darbys have snickered from the sidelines. Inquiring about Robyn's relationship has been a running bit at every reunion; "I am so glad Juan Dixon is not here right now!" is a meme enmeshed in history, same as Juan saying on a hot mic that he cannot stand Robyn. It is to the point that Robyn is pretending that she has never heard of any rumors — the woman who used to live on message boards and actually was the first to alert Wendy of rumors about Eddie going around the gossip blogs — leaving Wendy and Candiace to corroborate that yes, those rumors have long been in the ether.
What does matter to me is how fast and loose the show continues to play with allegations of inappropriate behavior. Gizelle cannot demand that her word be respected on Chris and then mock Karen's revelations that the man who she felt hugged her inappropriately was Juan. This is a dangerous game that the show continues to play, and I need it to stop after this season because it only cements that the poltergeist known as Michael Darby was not the problem on this show.  Not that this is indicative of anything, but Juan was too fast, too furious about being pulled into the mess, whereas Eddie has consistently laughed it off and Chris only became incensed when he found out who it was.  Meanwhile, Robyn's rebuttal to rumors of infidelity was a picture of "blue eyes" and Karen that wasn't shown on camera, wasn't shown to Karen, allegedly only showed her from the back… what is going on here, outside of empty jabs between friend groups that hate each other?
If Karen should take anything away from this, it's that she has no allies on the show, and should work on repairing that. This all kicked off because she disclosed to Ashley — the worst party possible — that she found it rich that Robyn was attacking her character and authenticity considering her relationship and vague nuptials. Ashley held that secret for about as long as it takes Michael Darby to stay off Grindr, immediately dropping hints to Candiace and Wendy before giving Robyn a full heads up about the pending showdown. No one, however, seemingly warned Karen that she was going to be arriving at a table of Gizelle's bubble guts and Robyn's rebuttals. One credit to Ashley is that she did point out that Robyn was loyal to Candiace because she was there for her during the divorce, but that was because they were both basketball wives – that has nothing to do with her general character.
What continues to be inexplicable to me, honestly, is this insistence that Charrisse — a friend-of — had her character slandered, when the rest of the cast sat by and let Charrisse talk about Karen's drinking problems, her alleged infidelities, and how none of the women went to Karen's parent's funeral save for her, as if she was supposed to be thankful that a fired cast member who she wasn't on speaking terms with just showed up to a service while her actual coworkers chose to forgo it. The fact that the rest of the cast don't view that as a point of shame on their end is beyond me, particularly when they choose to hammer in that Karen just "sent a one-line text" to Charrisse, which has since been disproven.
Frankly, for me it's fine that these women don't get along; they don't need to. But what Gizelle and Robyn need to understand is that Charrisse is not good TV, Karen or no Karen. She sits around looking miserable and asking where the champagne is and telling us she has money while walking around looking like one of Candiace's napkins. Next week she will tell us that Karen has sex with younger men while still being miserable and dressed like a handkerchief. We all understand she helped cast the show; we all get that she has good relationships in the DMV. That is all offscreen, and it will remain there. If she wants to be on TV so badly, she needs to figure out how to reset, because nothing she is doing is working; she's not a heel, she's dead weight that promises juicy secrets if you wait long enough for the payoff.
Next week, we break down whatever in the lesbehonest happened between Wendy and Mia in the after hours of Tulum — that is one way to make up, I guess — and Robyn has her bachelorette party. All these women could stand to drink a little bit less.
• Karen telling Gizelle "you are not even near an altar, be quiet" made me laugh out loud. She might be phoning this season in, but she will always have time to let Gizelle know that her input is not welcome.
• Jacqueline and Mia's situation is just really uncomfortable and I would really appreciate it if production would edit it out if nothing material is going to come out of it.
• Gizelle insisting that Karen is jealous of Charrisse and Wendy is jealous of Mia is ridiculous. Karen is not jealous of Charrisse, she just doesn't want to give up the platform she's built up for herself based on whatever real life dynamics they believe she needs to defer to. In the words of Jay Z, "you made it a hot line, I made it a hot song." They all need to get over it and find a new battle.
That bus ride to the shopping trip was something else. Ashley peeing in a cup, Gizelle with the bubble guts (shoutout to the production soundboard for the additional dramatics), the whole gang revealing their adult cinema preferences, Wendy and Candiace chatting about music videos and masturbation,  Mia and Charrisse bonding over plastic surgery… is this the stuff we usually don't hear? This is better than half the season! I am intrigued, a bit disturbed, and I sincerely hope they didn't eat the warm bus quesadilla.